Coulman, Bruce – Chair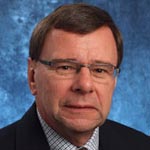 Bruce Coulman is a Professor and Head of the Plant Sciences Department in the College of Agriculture and Bioresources at the University of Saskatchewan. He has held this position since 2005. The Plant Sciences Department has research programs in crop breeding and genetics, sustainable systems for the production of field and horticultural crops, crop physiology and plant ecology, and offers undergraduate and graduate programs in these areas.
Prior to his present position, Bruce was a Professor in the Department of Plant Science on the Macdonald Campus of McGill University in Montréal from 1976-1993. He was chair of this department from 1988-1993. In 1993, he became a research scientist with Agriculture and Agri-Food Canada at the Saskatoon Research Centre. He served in a variety of leadership positions including a year as acting science director of the Agriculture and Agri-Food Canada national program in crop cultivar development and genetic enhancement, being responsible for approximately 80 scientists in 19 research centres across Canada. He has chaired the Canadian Expert Committees on Forage Crops and Plant Genetic Resources.
Bruce's research program has focused on the genetic improvement of perennial forage crops. He has also carried out studies on forage crop management and seed production of perennial grasses. During his career, Dr. Coulman has published over 200 scientific and technical articles, has supervised the research of 28 graduate students, and has developed 19 forage crop cultivars. In 2008, he received the Canadian Plant Breeding and Genetics Award from the Canadian Seed Trade Association in recognition of the productivity of his 33 year career as a plant breeder. Bruce has taught courses in genetics, plant breeding, forage crops, and industrial crops at both the undergraduate and graduate levels. He has also been instrumental in the development of new university programs.
Bruce has been involved in a number of development and research projects in several other countries, most notably in Egypt and China. His recent activities in China have included leadership of missions in a sustainable agriculture project, collaborative research projects with Chinese professors, and annually teaching a course at Inner Mongolia Agriculture University.
Further details:
Address:
Coulman, Bruce
Plant Sciences Department
University of Saskatchewan
51 Campus Drive
Saskatoon, Saskatchewan
CANADA S7N 5A8