Merckx, Roel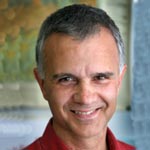 Roel Merckx is Professor in Soil Fertility at the Faculty of Bio-Science Engineering of the Katholieke Universiteit Leuven, Belgium. He is the head of the Department of Earth and Environmental Sciences at K.U. Leuven and represents his university in the board of the VLIR-UDC (Flemish Interuniversity Council for University Development Cooperation).
Dr. Merckx has been supervising collaborative research projects with IITA since 1987 on balanced nutrient management systems for maize based farming systems and at present is a partner in the CIALCA (Consortium for Improving Agriculture-based Livelihoods in Central Africa) where IITA, Bioversity and TSBF-CIAT are the participating CGIAR centers.
Dr. Merckx obtained his PhD in Soil Chemistry from K.U.Leuven while he was employed in Wageningen, The Netherlands, at the former research institute ITAL. He had postdoctoral stays at CSIRO, Division of Soils, Adelaide, Australia and sabbaticals at Colorado State University, Fort Collins and with IRD/TSBF-CIAT in Nairobi, Kenya. His professional background is research on the availability of plant nutrients and/or contaminants and on the dynamics of soil organic matter in agro-ecosystems. He has been supervising several R4D projects in developing countries (Sri Lanka, Vietnam, China, Kenya, DRCongo) in various collaborative links with local universities and NARS.
Further details:
Address:
Roel Merckx Head of Department Department of Earth and Environmental Sciences Division of Soil and Water Management Katholieke Universiteit Leuven Kasteelpark Arenberg 20-bus 02459 BE-3001 Heverlee Belgium