Ajala

,

Oyewole
Maize Commodity Specialist
Email: o.ajala@cgiar.org
Tel: +234 0700800IITA, +1 201 6336094, Ext. 2339
Nationality: Nigerian
Station: Nigeria (Ibadan)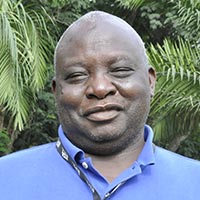 Sam Oyewole AJALA is a Maize Commodity Specialist. He previously worked at the Mbita Point Field Station of the International Centre for Insect Physiology and Ecology in Kenya (1990-1995) on breeding for resistance to maize stem borers and at the National Cereals Research Institute in Ibadan, Nigeria (1986-1990) as a maize breeder.
Dr Ajala has contributed to the release of several high yielding maize varieties and co-supervised several PhD and MSc students across Africa. He obtained his PhD from the University of Ife (now Obafemi Awolowo University in Nigeria ) in Plant Science with specialization in Plant Breeding in 1986 and was a visiting fellow at the Plant Molecular Biology Laboratory of the University of Birmingham at Edgbaston between 1994 and 1995 before joining IITA later in 1995. His professional research experience is complimented by supervisory roles in several projects including the West Africa component of the African Maize Stress Project that operated in 11 countries and several other national/regionally based projects.
Dr. Ajala currently leads, as the Maize Commodity Specialist, the Maize Component of a Africa-wide project named 'Support to Agricultural Research for Development of Strategic Crops' (SARD-SC) funded by Africa Development Bank (AfDB) and operating in 20 countries. The maize component operates in four (Ghana, Mali, Nigeria and Zambia) of the 20 countries.