Alakonya

,

Amos
Banana Plant Pathologist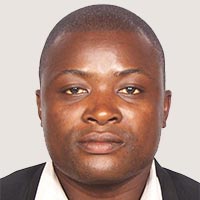 Amos Alakonya from Kenya is a Postdoctoral Fellow-Banana Plant Pathologist, based at the IITA Forest Station, Onne, Nigeria. Amos holds a BEDSCI (Botany & Zoology-2001), an MSc (Plant Pathology-2005), and a PhD (Plant Biotechnology-2011) from Kenyatta University-Kenya.
He has previously served as a Plant Heath Officer and Head of the Molecular Biology laboratory at Kenya Plant Health Inspectorate Service-Kenya (2005-2007), Junior Specialist at Plant Biology Division, University of California, Davis–USA (2007-2009), and Assistant Research Fellow, Institute of Biotechnology Research, Jomo Kenyatta University of Agriculture and Technology (IBR-JKUAT)-Kenya (2010-2012). Before joining IITA, he was serving as a Research Fellow & Coordinator for postgraduate programs at IBR-JKUAT.
He has trained many postgraduate students and published 32 manuscripts in various international peer-refereed journals. Amos has steered research programs on characterization and management of maize ear rot fungi, mycotoxins, Maize Lethal Necrosis Disease, Cassava Brown Streak Disease, Bacteria Blight of Coffee, Avocado anthracnose, Bean rust, Striga hermonthica, and Cuscuta pentagona.