Atta-Krah

,

Kwesi
Director, Systems and Site Integration
Email: k.atta-krah@cgiar.org
Tel: +234 0700800IITA, +1 201 6336094, Ext. 4900
Nationality: Ghanaian
Station: Nigeria (Ibadan)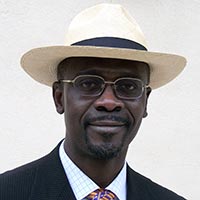 Kwesi Atta-Krah is the Director for Systems and Site Integration.
He came to IITA from Bioversity International, where he has been DDG from June 2005 up till 31 December 2012. Earlier, from 2000 to 2005, he was Regional Director for Bioversity in sub-Saharan Africa. He also worked with the World Agroforestry Centre (1993-2000), IITA (1989-1993), and the International Livestock Centre for Africa (ILCA), now ILRI (1983-1989).
In his early years as a research scientist at IITA, He was a member of the Resource and Crops Management Program, and was Coordinator for the Alley Farming Network for Tropical Africa (AFNETA). He was a key proponent of what was referred to as "Development-oriented On-Farm Research"—linking research to development, extension, and impact.
He holds a BSc degree in Crop Science/ Agronomy, from the University of Ghana, Legon (1977), and MSc and PhD degrees in Agroforestry/Natural Resources Management (1980 and 1984) from the University of Ibadan. He has held senior positions in research management, and has served on a number of international committees related to agriculture, food security and environment.