Gueye

,

Badara
Plant Tissue Culture and Conservation Specialist
Email: b.gueye@cgiar.org
Tel: +234 0700800IITA, +1 201 6336094, Ext. 2425
Nationality: Senegalese
Station: Nigeria (Ibadan)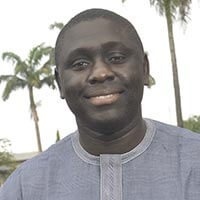 Badara Gueye is a cell biologist/physiologist and specializing in tissue and organ in vitro culture/hormonal physiology. He is the head of the in vitro genebank/in vitro lab of IITA's Genetic Resources Center.
He obtained two master's degrees, the first in Plant Biotechnology in Agro-Ecology and Plant Physiology from the University of Rennes I (France) in 2003 and the other in Plant Biotechnology from "Agro Campus Ouest" in Rennes (France) in 2004.
He has a Ph.D. in Plant Biology and Physiology, jointly from Cheikh Anta Diop University, Dakar (Senegal) and Montpellier SUP'Agro (France). He had a short postdoctoral stay at IRD Montpellier, France. He has conducted research on tissue and organ in vitro culture, hormonal physiology, cell biology/imaging, and plant genetic resources conservation. He also has experience in molecular biology (RNA and protein analysis), biochemistry and genetic transformation via Agrobacterium tumefaciens. He has participated in several Date Palm R4D projects in developing countries (Senegal, Mauritania, Djibouti, and Algeria) in any collaborationwith local and international partners.