Uzokwe

,

Veronica NE
Systems Agronomist
Email: v.uzokwe@cgiar.org
Tel: +255 22 2700092
Nationality: Nigerian
Station: Tanzania (Dar es Salaam)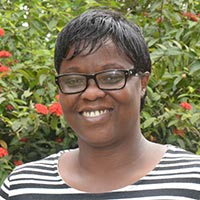 Dr. Veronica N.E. Uzokwe is a Systems Agronomist with IITA based in Dar es Salaam, Eastern African (EA) Hub. Dr. Uzokwe is currently the Country Project Coordinator for the Support to Agriculture for Research & Development of Strategic Crops in Africa (SARD-SC), and a Systems Agronomist to the ACAI project.
Veronica NE Uzokwe received her MSc in Agronomy (1998) from the University of Ibadan and her PhD (2008) in Plant Breeding/Genetics from the International Institute of Tropical Agriculture (IITA), both in Nigeria.
Prior to this appointment, from 2011 to 2013, Veronica was a Plant Breeder/Agronomist with the International Rice Research Institute (IRRI), Los Banes, Philippines; from 2008–2011 she was a postdoctoral research fellow of Crop Production/Agronomy at the Chinese Academy of Agricultural Science (CAAS). She also volunteered in China at the United Nations Food and Agricultural Organization (FAO) in 2011 and worked as a Principal Research Officer and lecturer at the Forestry Research Institute (FRIN), Federal College of Forestry, Nigeria from 2001–2008. She has over 10 years of experience in root, legume, cereal and indigenous non-woody forest crops in Africa and Asia.