Cameroon launches the ENABLE Youth Program
6 May 2017
Taking the lead in Central Africa, the Cameroon government launched the ENABLE Youth Program on 24 April.
The program, which was launched at Yaoundé, was attended by the country's Minister of Agriculture, Henri Eyebe Ayissi, accompanied by other top government officials and representatives of the African Development Bank (AfDB) and IITA.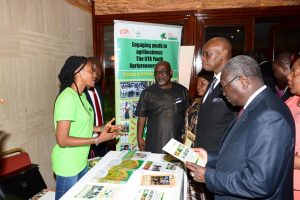 Speaking during the launching, Ayissi noted that the ENABLE Youth Program is part of the country's efforts to ensure that every youth is provided an opportunity to earn a decent living through agriculture. He expressed satisfaction that IITA is partnering with the government in the nationwide implementation of the program. He also appreciated the AfDB for its support to the country.
The Deputy Director General for Special Duties, Kwame Akuffo-Akoto, representing IITA, stressed that the Institute, through the IITA Youth Agripreneurs (IYA) model, has realized that with institutional support, training, financing, and mentoring, youth can be productively engaged in agriculture. He added that the Institute would introduce the concept used in attaining the success recorded with the IYA into the ENABLE Youth Cameroon Program.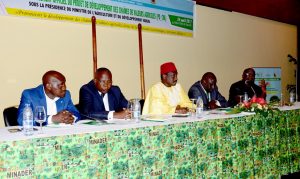 The AfDB representative, Racine Kane, explained that the idea behind the introduction of ENABLE Youth was to increase food production and job creation among youth. He said the agricultural sector is vast enough to accommodate the many unemployed African youth.
The ENABLE Youth program in Cameroon is a component of the Agriculture Value Chain Development Program (PD-CVA) under the Ministry of Agriculture and Rural Development (MINARD).
IITA is expected to lead and administer 16 Youth Agribusiness Incubation Centers (YABICs) over a period of five years and train 1536 Agripreneurs who will launch 560 new agribusinesses and employ about 6200 additional persons, including outgrowers. It will also organize and carry out the capacity development of technical personnel recruited in the framework of the agripreneurial strategy to establish and operationalize an effective monitoring and evaluation system in all participating YABICs as well as assist the Agripreneurs in preparing their business plans and submitting them to PD-CVA.