IITA donates 'Seeds of Renaissance' to Nigeria to address humanitarian crisis
21 May 2017
IITA donated about 35,930 kilograms of seeds to the Borno state government as part of efforts to cushion the humanitarian crisis in the northeastern part of Nigeria.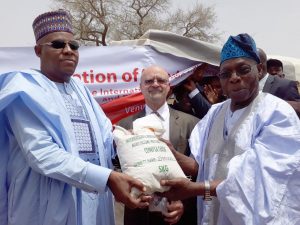 The donation, which took place on 22 May, is perhaps the largest quantity of seeds offered to Nigeria in recent times. This IITA initiative addresses the humanitarian crisis in the region—a region once referred to as the bread basket of Nigeria.
Delivering the seeds to the Governor of Borno State, Kenton Dashiell, IITA Deputy Director General, Partnerships for Delivery, representing Director General Nteranya Sanginga, said the donation is aimed at helping Nigeria to rebuild Borno in particular and the northeast in general.
Donated seeds include improved varieties of cowpea, soybean, maize, millet, sorghum, and rice that are adapted to the climate of the region. "They are also high yielding and resistant to the major pests and diseases, and other biotic and abiotic constraints in the region," Dashiell explained, adding that another 3000 bundles of cassava planting materials will be delivered to the state once the rains stabilize.
IITA Ambassador and former Nigerian President, Chief Olusegun Obasanjo described the donation as the "most meaningful gift" ever given to the people of Borno state.
The IITA Ambassador pledged IITA's commitment to support Borno state and Nigeria at large during this challenging period.
"IITA and partners including the World Food Program (WFP), the Zero Hunger Forum, and African Development Bank will continue to give priority attention to Borno state in particular and the northeast in general," Chief Obasanjo said.
Located about 850 kilometers northeast of Abuja, Borno state became the epicenter of attacks from Boko Haram—an Islamic extremist group that had killed more than 20,000 since 2009, and displaced more than 2.3 million, majority of them farmers. The group has become the world's deadliest organization according to the Global Terrorism Index in 2015.
In February 2017, the United Nations listed northeastern Nigeria as one of the regions in the world facing hunger and devastating levels of food insecurity.
Dashiell says: "The donation is being given because IITA is concerned about the plight of the people of the Northeast who, by many accounts, are very food insecure, malnourished, and need assistance to get back to normal life. We are committed to working with the Federal Government and the State governments in northeastern Nigeria to transform agriculture. We also plan to partner with WFP and the Food and Agriculture Organization (FAO) of the United Nations during this 2017 growing season. It is also an opportunity for IITA as an international agricultural research-for-development institution to implement its mission to transform agriculture in Nigeria and Africa at large."
The seeds are intended for planting by farmers of Borno State in the upcoming cropping season. The IITA seed collection is a product of joint efforts by IITA breeders and agronomists, special project managers, and scientists, the Business Incubation Platform (BIP)-GoSeed producers, and IITA Youth Agripreneurs. Sister centers ICRISAT and AfricaRice also provided seeds to support this initiative.
The Governor of Borno State, Alhaji Kashim Shettima, noted with appreciation that agriculture remains the highest employer on earth and that "IITA plays a pivotal role in sustaining the sector in Africa."
"Words cannot adequately convey the depth of our gratitude to IITA and to President Obasanjo who is an Ambassador of IITA, for the choice of Borno as beneficiary of this remarkable intervention. Seeds, particularly at this time, are life saving for us in Borno State. In a typical conflict situation, majority of farmers end up eating up their seeds because they can't plant them. These seeds will be of immediate use to our farmers in the southern part of Borno State which has been less affected by the Boko Haram insurgency. Farmers there are still carrying out their activities as against areas like Northern Borno," Governor Shettima said.
Videos
END
For media enquiries, please contact Ken Dashiell, k.dashiell@cgiar.org, or Godwin Atser, g.atser@cgiar.org
About IITA, www.iita.org
The International Institute of Tropical Agriculture (IITA) is a not-for-profit institution that generates agricultural innovations to meet Africa's most pressing challenges of hunger, malnutrition, poverty, and natural resource degradation. Working with various partners across sub-Saharan Africa, we improve livelihoods, enhance food and nutrition security, increase employment, and preserve natural resource integrity. IITA is a member of CGIAR, a global agriculture research partnership for a food secure future.
IITA is guided by an ambitious strategy–to lift 11.5 million people out of poverty and revitalize 7.5 million hectares of farmland–by 2020. IITA has delivered more than 70% of the CGIAR's impact in sub-Saharan Africa and remains committed to science-driven improvement of agriculture and related food value chains.