IITA50: Ago-Owu research farm inaugurated
2 June 2017
As it turns 50, IITA inaugurated a new research station in Ago-Owu in Osun state, Nigeria, this week with about 2,000 farmers, students, research and development partners, government officials, and media in attendance.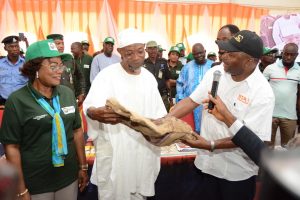 This is part of efforts to expand its research agenda and create impact at the farm level.
The Ago Owu research station is located in Ayedade Local Government Area, and will primarily serve as a research and training facility that will backstop the state's agricultural programs and offer training support to the youth.
To help transform the agricultural sector in Osun state, Governor Rauf Aregbesola had donated 205.5 hectares to IITA in 2015. IITA and Osun state signed a memorandum of understanding and IITA began investment on the land with the development of roads and other infrastructure.
During the launch program, Governor Aregbesola commended IITA for its research efforts in the last 50 years, adding that the research facility will advance research in Osun state with a spin-off effect on other parts of the country.
"We believe that this research facility will train and empower our youth in modern agriculture," Governor Aregbesola said.
At the inauguration researchers made presentations on new findings from cassava weed management, yam seed multiplication, banana breeding and multiplication, cassava processing, and Aflasafe—a technology for controlling aflatoxins, among others. IITA also presented improved seeds of maize, cowpea, soybean, yam, plantain seedlings, and cassava stems for distribution to farmers, and some Purdue Improved Crop Storage (PICS) bags to the governor. The bag provides a simple, low-cost method of reducing postharvest losses in crops due to insect infestations. Hundreds of farmers were provided training on use of these new technologies and improved planting materials.
"This research facility is part of our strategy to take research closer to the people. Our plan is to make this station a one-stop shop where farmers' needs will be addressed," IITA Director General Nteranya Sanginga said.
Sanginga said the Ago-Owu research facility would primarily conduct research on cassava, maize, yam, soybean, banana/plantain and cowpea. "We will also be using the facility to train Nigerian youths in agribusiness," he added.
The inauguration of Ago-Owo research station brings to six the number of such facilities in Nigeria. Others are located in Onne (Rivers State), Abuja, Mokwa (Niger state), Minjibir (Kano), and Ikene (Ogun State).
Dr Alfred Dixon, Director for Development and Delivery, IITA, said the inauguration of the research facility would assist the state in accelerating its agricultural reform agenda with a focus on increasing agricultural productivity and job creation.
Dr Alfred Dixon, Director for Development and Delivery, IITA, said the inauguration of the research facility was a step in the right direction with the potential of bringing many benefits to the people of the state in particular, and the country in general.
Watch video on "Farmers Field Day Handing over of improved seeds"