IITA Mozambique office inaugurated
23 May 2017
The Mozambican Minister of Agriculture and Food Security, Mr José Pacheco, and the IITA Board of Trustees (BoT) led the inauguration of the new offices of IITA in Nampula, Mozambique, last week, 8-12 May. The event also marked IITA's golden jubilee celebration attended by IITA's senior management team and the US Ambassador to Mozambique.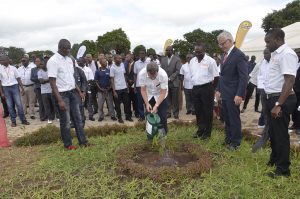 The BoT members were in Mozambique for their spring annual meeting, where among other things, Director General Nteranya Sanginga briefed them on the progress IITA has made since their last meeting in November last year, achievements, challenges, and investments. Tree planting by the IITA Board chair Bruce Coulman and the Minister of Agriculture, tour of the office facility, exhibitions, dancing, and a field visit were some of the activities that took place to mark the occasion.
IITA started work in Mozambique in 1988 with research focused on cassava breeding. It has now added soybean, cowpea, and sesame as the main crops being promoted in Southern Africa. A total investment of about US$800,000 has been made on the new facility that comprises 11 offices, three labs that deal with plant health, agronomy and soil fertility, and seed quality, an IT lab, seed storage facilities, and sample preparation area.
The station was officially opened in 2007 and as the number of staff grew, office space and other important research facilities became a major constraint. Management later approved a business proposal to source funds from within Mozambique and through cost recovery to assist in the construction of a new facility. IITA initiated several fund raising drives including production and sale of basic seed to different companies and farmers and consultancy services. So far, five varieties of soybean and four varieties of cowpeas have been officially registered in Mozambique. Mozambique has an acute shortage of basic seed and IITA is trying to address that challenge by working with Instituto de Investigação Agrária de Moçambique (IIAM), ICRISAT, CIAT, and other partners to meet the demand for improved legume seeds. IITA Mozambique has access to over 155 hectares of land, part of which could be used for seed production activities.
IITA is the only CGIAR center in Mozambique that has invested in facilities of high standard. Sanginga described IITA-Mozambique efforts as 'modest and honorable to the vision and targets of IITA'. He acknowledged the support provided by USAID and other partners to make this possible. To meet the gap and challenges that exist in Africa on seed supply there is a need for good quality seed and good storage facilities.
Briefing the board, the Minister, and dignitaries at the function, IITA Country Representative Steve Boahen explained that the yearly budget of IITA Mozambique has grown progressively from $417,000 in 2007 to $3.3 million in 2017. The station now has 6 international staff and 35 nationally recruited staff, and employs over 150 temporary workers during the growing season. The station has trained over 25,000 farmers and established about 150 hectares of disease-free cassava planting materials for distribution to farmers during the last six years. IITA Mozambique has also trained over 20,000 women on soybean home processing and utilization.
"The facility is a symbol of our commitment to the government of Mozambique, our colleagues at IIAM and partners to fight hunger and poverty in Mozambique. We are on the right path to transform African agriculture," added Boahen in his address.
In Mozambique, IITA is operating in Nampula, Tete, Manica, and Zambezia provinces. Also present at the function was the Director of IIAM, Dr Olga Faftine. She acknowledged the support IITA is giving to IIAM with its research work and leadership in the field and particularly with the development of improved technologies for agriculture.
In his inaugural speech, Minister Pacheco called on more commercialization of soybean products emphasizing that farmers are struggling to get markets once they harvest. He commended the working relationship between IITA and the government and the contribution IITA has made to the agriculture sector in Mozambique. "I challenge IITA to increase production of seed to cater for the huge shortfall we have. The partnership with my ministry dates back to 15 years and the results are evident as we have gathered here."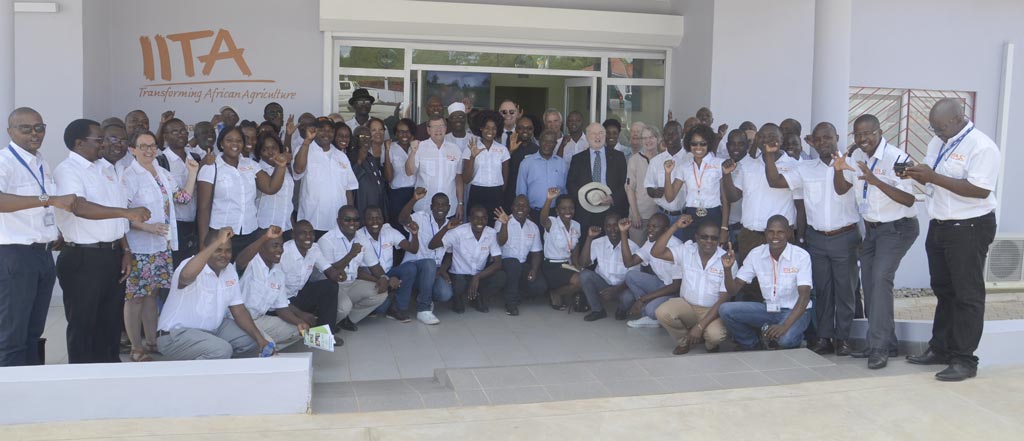 The United States Ambassador to Mozambique, Dean Pittman, said that because of the trust they have for IITA, they have made it possible to construct the seed store where quality control is assured. He also commended the great strides that have been made by IITA in aflatoxin control in maize and groundnuts. USAID under the Feed the Future is funding one of the biggest projects in Mozambique called SEMEAR. Under the project, IITA is expected to spearhead the production of over 3,555 tons of soybean, 1,234 tons of cowpea, and 582 tons of sesame improved seed varieties in a 5-year period.
Video links