New era in Open Access marked in IITA
15 August 2017
IITA moves closer to being Open Access (OA) compliant with the launching of a data repository called CKAN or Comprehensive Knowledge Archive Network.
CKAN is an open access management system for storing and distributing open data and is IITA's repository for numeric data. It was launched on 21 July at IITA, Ibadan, with researchers, students, and trainees from various research areas and units in attendance.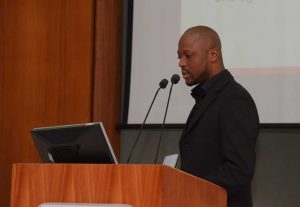 CGIAR Open Access policy mandates its members to make research data accessible, discoverable, and free to the public, with comprehensive implementation by the end of 2018. IITA, therefore, has an obligation to come up with OA repositories for various information products. While IITA already uses OA repositories for text, multimedia, and special files, the repository for tabular (mostly numeric) data was lacking.
With the launch of CKAN, IITA researchers can now easily drop their data in the repository in compliance with the Open Access Policy. CKAN displays the metadata immediately, and after an embargo period (usually 12 months), makes the data sheet itself available. These repositories make the work of IITA's scientists easily accessible and enable other researchers to use the data in the repository.
The Data and Information Management Unit (DIMU) implemented and deployed the open access data repository for public access.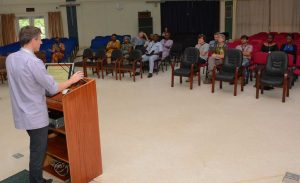 Martin Mueller, IITA's E-Research Coordinator, DIMU, reminded staff that under the Open Access Policy of the Institute, everyone should ensure that their work is easily accessible and available. "The CKAN platform provides researchers a medium for saving and sharing research findings, and linking to other online OA repositories," he said.
This means that OA repositories can (theoretically) link various data storage archives. Through this network, metadata in the content of other repositories can be accessed via CKAN. Also, other repositories can display CKAN content.
Olalekan Anifowoshe, Data Programmer, DIMU, said, "The Institute supports its researchers to become OA compliant. Staff members should assist the Institute's mission of providing free online Open Access to its research by publishing their research outputs, data, publications, and information products under OA licenses." Staff should fill in the metadata capture sheet in the site on SharePoint and send it together with the data immediately after data collection to iita-ckan@cgiar.org. During the launch, the use of the capture sheet was also explained in detail.
The launch marks the official start of the use of the CKAN platform to help Unit and Project Managers familiarize themselves with the changes brought about by the introduction of Open Access policies. Also with this launch, it is now mandatory for every researcher to use CKAN for all research data under the OA policy.
Established OA and data management implementation guidelines and policies have been developed by CGIAR as part of its commitment to enhancing the visibility, accessibility, and impact of its research and improvement activities.