Nigerian Finance Minister visits IITA
11 June 2017
Min Kemi Adeosun convinced that the ENABLE program should be rolled out in Nigeria
Ibadan, Nigeria – The Nigerian Minister of Finance, Honorable Kemi Adeosun, visited the International Institute of Tropical Agriculture (IITA) on 10 June to learn about the IITA Agripreneurs Program (IYA) and the African Development Bank-funded ENABLE Youth (Empowering Novel Agri-Business-Led Employment) Program.
The Minister and her party were welcomed by IITA Director General Nteranya Sanginga and senior staff, including members of the IYA.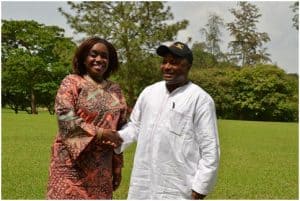 "This is the first time that a Minister of Finance from the Federal Republic of Nigeria visited IITA in its 50 years of existence," Sanginga said. "We have hosted Presidents, Ministers of Agriculture, Environment, and other officials, but you are the first Minister of Finance to come and see for yourself what IITA is doing…. You have made our day!"
After a short discussion with the director general and the IITA team, the Minister met the Agripeneurs—about a 100 of them—all graduates of different disciplines, some of who talked about how the IYA program had changed their mindsets about agriculture and agribusiness, and how it is now transforming their lives. Several youths provided testimonials on how they, in the different locations in Nigeria, have succeeded in their start-up businesses, thanks to the training and initial support received from IITA and various partners from the private sector, development partners, and international organizations.
Mercy Wakawa from Biu, Borno state, for example, talked about how a training provided by IITA's N2Africa project funded by the Bill & Melinda Gates Foundation that she attended 2 years ago had helped her establish a groundnut oil processing cottage industry that now provides employment for seven other youths and supports the local groundnut industry being run by women.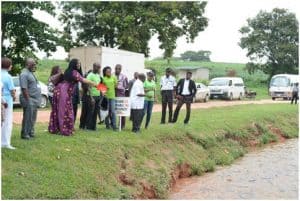 Ajibola Olaniyi leads a team of two other young people who ventured into catfish farming. Without prior knowledge about fish farming but with support from IITA, Ajibola and her team resuscitated four abandoned ponds and later expanded to 17 with a capacity of 150 tons. The expansion of the business has created jobs for short-term staff who work with the team in managing the ponds. The business is growing with clients coming from the various geo-political zones in Nigeria to patronize the products.
TOFAN Foods is a subsidiary of IITA Youth Agripreneurs. The business, which is owned by three young people who were trained under the processing unit of IYA, is producing Tidbit, a snack. The snack is made from high quality cassava flour and cowpea. TOFAN Foods has been established in Ijebu-Ode, Ogun State, and will be scaling out the technology learned during the incubation period in IYA.
Oyindamola Asaaju, another Agripreneur, used to serve on tables, but after getting involved with IYA, she now leads a group of Agripreneurs in Onne, Rivers State, in cassava, rice, plantain, and catfish production. The group is using the IITA Station in Onne to develop new agribusiness enterprises in poultry, catfish, and micropropagation of plantain, and serve as an incubation center for young people.
In an interview after the meeting, Minister Adeosun said she and her team came to IITA to "see what the youth and IITA are doing (in the area of youth engagement in agriculture), and how we can get people into agribusiness, which is key for job creation and food security."
"We came here (to IITA) to assess a project (ENABLE Youth) being considered by the Federal Government. From what I have seen today, I am extremely impressed and inspired! … We should work on how we can roll out this project nationally!" the Minister concluded at the end of the visit.
The African Development Bank Group (AfDB) had approved the ENABLE Youth Nigeria program, and will provide a US$300 million as a loan to contribute to job creation, food security and nutrition, rural income generation and improved livelihoods for youths in both urban and rural areas in the country.
ENABLE Youth is expected to create business opportunities and decent employment for 1000 young women and men along priority agricultural value chains of various enterprises (aquaculture, crops farming, marketing, processing, etc.) per state, including Abuja, the Federal Capital Territory.
The Minister's team included Ahmed Aliyu, Director, International Economic Relations, Special Adviser Adora Asonye, Technical Assistant Tolulope Kasali, and Chief Administrative Officer (Agriculture) Abubabkar Ibrahim Matazu, among others.
###
About IITA, iita.org
The International Institute of Tropical Agriculture (IITA) is a not-for-profit institution that generates agricultural innovations to meet Africa's most pressing challenges of hunger, malnutrition, poverty, and natural resource degradation. Working with various partners across sub-Saharan Africa, we improve livelihoods, enhance food and nutrition security, increase employment, and preserve natural resource integrity. IITA is a member of CGIAR, a global agriculture research partnership for a food secure future.
Media contact: Katherine Lopez, Head of Communication, k.lopez@cgiar.org, +234 803 978 4454
Evelyn Ohanwusi, Interim Head, Youth in Agribusiness Office, e.ohanwusi@cgiar.org, +234 708 434 0252