Transfer of Aflasafe technology: IITA signs agreement with HarvestField Industries
29 March 2018
According to statistics from the Food and Agriculture Organization (FAO), about 25% of all crops in the world are affected by aflatoxin, resulting in the loss of export markets in many countries in Africa. Aflatoxin affects the absorption of other nutrients thereby causing malnutrition and other health problems, which eventually lead to death. Aflatoxin contaminates up to 65% of maize and groundnut crops, and approximately 95% of children in Africa have aflatoxin in their body due to high exposure.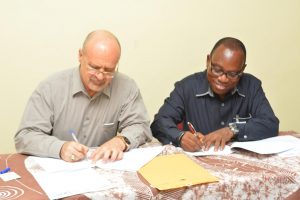 Addressing this threat as part of IITA's work on making healthy crops has led to the development of the Aflasafe technology, which almost eliminates (up to 80%) aflatoxin in food crops and vastly improves the health of farm families.
A new stride was taken on 12 March, as IITA signed a memorandum of understanding with Harvestfield Industries Limited for the remanufacturing and commercial distribution of Aflasafe in Nigeria to ensure its availability in the market. In his welcome address, Matieyedou Konlambigue, Managing Director, Aflasafe Technology Transfer and Commercialization (ATTC) program, cited IITA's role as a bridge between research and the market, and ensuring that developed technologies get to the farmers who would need and benefit from them.
"With over two decades of hard work and significant science work, IITA has worked to ensure that technologies such as Aflasafe, reach the farmers," said Konlambigue. "We aim to have 5,000 hectares of groundnut and maize plantations covered by Aflasafe, with farmers' access to the market improved at the end of the project," he added.
In his address, Kenton Dashiell, Deputy Director General, Partnerships for Delivery, recognized the efforts of Drs Ranajit Bandyopadhyay and Peter J. Cotty in developing the Aflasafe technology. He enumerated the negative effects of aflatoxin, as well as the benefits of Aflasafe: "Aflatoxin causes liver cancer, and retards the growth of children, but when Aflasafe is used, it will greatly benefit farmers and their families, and it will impact positively on industries in Nigeria."
IITA Director General Nteranya Sanginga said the signing is significant as it is the first time IITA is working with the private sector in this way. "The proposal to build the Business Incubation Platform (BIP) was approved on the condition that Aflasafe would be sold on a commercial level and private sector organizations would come in to commercialize the product. Today, the realization of this condition is satisfied."
Martins Awofisayo, Managing Director of Harvestfield Industries expressed his happiness over the signing of the MoU: "Congratulations to us at Harvestfield for being the preferred partner for this mission of providing a solution to agricultural challenges and improving livelihoods in Nigeria." He continued, "We were driven into this partnership because of the high level of aflatoxin in Nigeria; that Nigeria cannot export its maize and groundnut is something we are not proud of. We wish to restore the groundnut pyramid age and boost the Nigerian economy. The second reason is the health issue, which has not been adequately regarded in Nigeria, and is a great problem."
Further committing the company's interest in IITA, he said: "Our investment will continue in this project; we wish to explore other areas of partnership with this great research institute."
Other attendees at the event included Mrs Zainab Towobola, Director of Food and Nutrition, Federal Ministry of Agriculture and Rural Development (FMARD), Dr Adeleke Mustapha, also of FMARD, representatives of the Nigeria Agricultural Quarantine Service (NAQS), and representatives of the National Agency for Food and Drug Administration and Control (NAFDAC). Aflatoxin is a fungal toxin that is widespread in agricultural products and food. It is associated with both acute and chronic toxicity in animals and humans including acute liver damage, liver cirrhosis, and liver cancers. Chronic toxicity associated with ingestion of low dose aflatoxin in peanuts, cereals, and other at-risk items are of great concern.