Bill Cunningham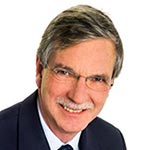 Bill Cunningham from Irel and is a Chartered Accountant and began his early career at Coopers and Lybr and in 1973 where he rose to the position of Deputy Senior Partner and Head of Audit and Advisory practice in Irel and after the Firm's merger with Price Waterhouse in 1998. He has over 35 years' experience in providing audit, advisory and transaction support services specializing in financial service companies. Bill's clients have included Allied Irish Bank plc, the Central Bank of Irel and, Zurich plc, AIG insurance company, CIE—the State owned public transport company, the Irish Dairy Board and a wide range of Irish and International companies.
Bill has chaired the Institute of Chartered Accountants main accounting committee, represented the Irish Institute on several international groups and acted as external examiner in accounting at University College Dublin and Dublin City University. Since retirement, he has taken on a number of non-executive director roles. He chairs the Audit Committees in the Department of Education and the Department of Agriculture and is an advisor to the Audit Committee of the Central Bank of Irel and.
Bill has an undergraduate degree in commerce from University College Dublin and is a Fellow of the Irish Institute of Chartered Accountants in Irel and.
Further details:
Address:
55 Trees Road
Mount Merrion
Co Dublin, Ireland