Felix Kolawole Salako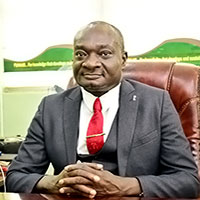 Felix Kolawole Salako is the sixth substantive Vice-Chancellor of the Federal University of Agriculture, Abeokuta (FUNAAB) and a Fellow of the Soil Science Society of Nigeria (FSSSN).
Professor Salako began his career in 1987 as a Consulting Soil Scientist at TCI Associates, Ibadan. He joined the International Institute of Tropical Agriculture (IITA), Ibadan, in 1989 to manage an IITA/United Nations University project with Okomu Oil Palm Company, Okomu Forest Reserve, Edo State as a resident Research Associate. He worked on several projects at IITA until 2000.  In 2000, he joined the Federal University of Agriculture, Abeokuta (FUNAAB) as a senior lecturer in the Department of Soil Science and Land Management (SSLM), becoming a professor in 2006. He has held several administrative positions at FUNAAB since then and was appointed Vice-Chancellor in November 2017.
He has won many research-support grants, which included the Third World Academy of Sciences (TWAS) and the Training and Research in Italian Laboratories (TRIL) of the Abdus Salaam International Centre for Theoretical Physics (ICTP), Italy. He participated actively from 2016 to 2020 in the African Cassava Agronomy Initiative (ACAI) as the southwest coordinator under the auspices of IITA.  He was recently conferred with the Fellowship of the Agricultural Society of Nigeria (FASN). He holds an MSc in Soil Physics/Soil Conservation from the University of Nsukka and a PhD from the University of Ibadan.