NamangaNgongi, Amos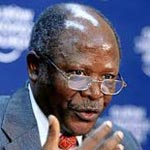 Amos NamangaNgongi is currently Chairman of the African Fertilizer and Agribusiness Partnership, a position he took up in 2012 after his retirement as President of the Alliance for a Green Revolution in Africa (AGRA). He is also Chairman of Kose Estates, a farming concern in Cameroon and Senior Agricultural Adviser to McKinsey and Company. During the time he was President of AGRA (2007-2012), the organization grew from 25 to over 100 staff and he established collaborative agreements with several governments, research organizations, universities, NGOs and civil society organizations. AGRA pioneered many innovative ideas and took them to scale, successfully raising the profile of African agriculture.
Amos NamangaNgongi has held many varied positions in his professional career. He began as an Agricultural Extension Officer with the Cameroon Government in 1968 and after his PhD, he returned to the Cameroon Ministry of Agriculture where he was Chief of Bureau and later Assistant Chief of Service. In 1980, he was appointed Counselor in the Cameroon Embassy in Rome marking the beginning of a distinguished international career. At the Cameroon Embassy in Rome he was responsible for relations with FAO, IFAD, WFP and WFC and was a member of FAO's Program Committee, vice-chair of the Committee on World Food Security and a member of IFAD's Executive Board. He was appointed president of the African Group of Representatives in 1983-1984.
In 1984, Amos joined the World Food Programme as Chief of East and Southern Africa operations, assumed the position of Chief of Bureau for West and Central Africa in 1987 and became Deputy Director of External Relations and Secretary of WFP's Executive Board in 1989. He was appointed Director for Development Operations in 1992 and in 1994 he was appointed Deputy Executive Director, a position he held until 2001 when he was appointed Special Representative of the Secretary General of the United Nations and Chief of the Peace Keeping Mission in the DRC. Amos retired from the United Nations in 2003 and return to Cameroon where he took up farming and was active in community affairs in his area of residence until his appointments in 2007, first as President to the newly formed Anti-corruption Commission of Cameroon and thereafter as President of AGRA.
Amos NamangaNgongi obtained his MSC and PhD degrees in agricultural sciences from Cornell University and a post-graduate certificate in project planning and analysis from Bradford University in the UK.
Further details:
Address:
Amos NamangaNgongi
P.O. Box 43
Limbe Cameroon
Tel:
+237 333 23292, +237 796 52384