Nteranya Sanginga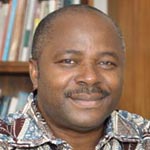 Dr. Nteranya Sanginga assumed the leadership of the International Institute for Tropical Agriculture (IITA) on 01 November 2011.
Before joining IITA, he was the Director of the Nairobi-based CIAT-TBSF. Dr Sanginga has more than 21 years of experience with the University of Zimbabwe, International Atomic Energy Agency (IAEA) in Austria, and CIAT-TSBF, in agricultural research and development, particularly in the fields of applied microbial ecology, plant nutrition, and integrated natural resources management in Africa, Latin America, and Southeast Asia.
Prior to transferring to CIAT-TBSF late 2002, Dr. Sanginga spent 14 years at IITA in various capacities, including principal scientist and head of the soil microbiology unit; project coordinator of Improvement of high intensity food and forage crop systems and Short fallow systems to arrest l and degradation due to l and use intensification; and leader of the multidisciplinary program Improving and intensifying cereal-legume systems in the moist and dry savannas of West and Central Africa, collaborating with many scientists in national and international institutions. His career has also focused on building the capacity of young scientists in Africa. He has trained more than 30 PhD c andidates at the National University of Congo, School of Agriculture and University of Zimbabwe, who now hold leadership positions in their countries.
Born and bred in the Democratic Republic of Congo (DRC), Dr Sanginga did most of his postgraduate training at IITA and his PhD in Agronomy/Soil Microbiology under a joint program and development partners in DRC, Burundi, and Rw anda.
Further details:
Address:
Director General
International Institute of Tropical Agriculture (IITA)
Oyo Road
P.M.B. 5320
Ibadan, Oyo State, Nigeria