Okot, Josephine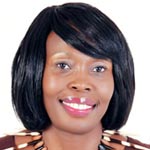 Josephine Okot is the Managing Director of Victoria Seeds Ltd, a full line seed company she founded in 2004 for disseminating improved quality seed to small holder farmers. At the time she believed that the development and dissemination of high yielding seed varieties was the primary technological force that can drive up crop productivity in Ug anda. Josephine has steered Victoria Seeds Ltd from humble beginnings into one of Ug anda's leading seed houses.
Her outst anding work to develop the agri input market has been recognized through numerous national and international accolades. Josephine was awarded the prestigious YARA Prize 2007 for a Green Revolution in Africa in recognition of her efforts to reverse Africa's declining agricultural productivity and for being an outst anding example of African entrepreneurs willing to take risks, take the lead and break new ground within African agriculture. In 2009 she was honored with the Oslo Business for Peace Award for promoting socially responsible and ethical business practice in an outst anding way. In 2010 recognized as Woman Entrepreneur of the Year and Share Holder Value Champion by the Monitor Publications and KPMG. In 2011 she was the African Woman of the Year for her outst anding work in supporting, promoting, mentoring women and demonstrating qualities required to succeed in business at the Africa Awards for Entrepreneurship. Victoria Seeds Ltd was nominated as Best Seed Company of the Year 2013 by Ug anda Responsible Investment Award. In 2014 Josephine was nominated as the Business Woman of the Year at the Ug anda MTN Awards.
Earlier, from 2002 – 2004, Josephine played a leadership role in the harmonization of seed policies and laws in Eastern Africa championed by the Association for Strengthening Agricultural Research in Eastern and Central Africa (ASARECA) through the Eastern and Central Africa Program for Agricultural Policy Analysis (ECAPAPA) . During the same period, Ms Okot spearheaded the re-organization and strengthening of Ug anda Seed Trade Association so that it could address the needs of the emerging private seed sector in Ug anda and served as Chairperson of Ug anda Seed Trade Association, from 2002 – 2004. In 2002 Ms Okot was elected to the Board of Directors of the African Seed Trade Association to represent the interest of the emerging seed markets of Africa, a position she retired from in March 2006. Josephine Okot holds a Masters Degree in International Business from Washington International University.
Further details:
Address:
Okot, Josephine Victoria Seeds Ltd, P. O. Box 11913, Kampala