Victoria Salin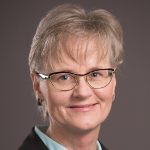 Victoria Salin is Professor in the Department of Agricultural Economics at Texas A&M University specializing in agribusiness management and finance. Since 2013, she has been Chair of the Intercollegiate Faculty of Agribusiness with primary responsibility for the
Master of Agribusiness program
 . Dr Salin is a co-director of the
Agribusiness, Food, & Consumer Economics Research Center
 , leading its research and outreach projects relating to food safety, traceability, financial markets, and strategic management.
Salin conducts economic and financial research for the Scientific Advisory Council of the World Food Logistics Organization , an affiliate of the Global Cold Chain Alliance. As well as serving on the IITA Board, Salin serves on the International Food & Agribusiness Management Association.
Salin is a past chair of the Food Safety & Nutrition Section of the Agricultural & Applied Economics Association and has co-chaired the International Food & Agribusiness Management Association academic track sessions and the human capital development activities in 2012 and 2013. She served on the Board of Directors of the State of Texas Agricultural Finance Authority, and on the Advisory Board of the inaugural Women in Agribusiness Summit 2012.
Salin graduated from Miami University in Oxford, Ohio, with a degree in political science and history. She completed an MA from the University of Virginia in government and foreign affairs. Prior to her academic career, she was an editor in private industry and with the Economic Research Service, U.S. Department of Agriculture. She also served as an international trade analyst at the U.S. International Trade Commission. Salin received her Ph.D. from Purdue University in 1996, with specialties in agribusiness finance and international trade and joined the faculty at Texas A&M University in 1996.
Further details:
Address:
Chair, Intercollegiate Faculty of Agribusiness, and Director, Master of Agribusiness Program Agribusiness, Food & Consumer Economics Research Center, Department of Agricultural Economics, Texas A&M University, 2124 TAMU, College Station, TX 77843-2124