Banana and Plantain

(Musa acuminata & balbisiana hybrids)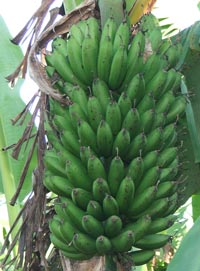 Banana and plantain are perennial crops that take the appearance of trees as they mature. Diverse cultivars are grown. Musa are believed to have originated in Southeast Asia but their introduction into Africa is unclear.
Throughout history Musa has provided humans with food, medicine, clothing, tools, shelter, furniture, paper, and handicrafts. It could be termed the "first fruit crop" as its cultivation originated during a time when hunting and gathering were still the principal means of acquiring food.
Musa are rich in vitamin C, B6, minerals and dietary fibre. They are also a rich energy source, with carbohydrates accounting for 22% and 32% of fruit weight for banana and plantain, respectively.
Banana
Bananas are cultivated in nearly all tropical regions of the world. Of particular importance to Africa is the East African Highland Banana (EAHB) which is a staple starchy food for 80 million people and important source of income. There are 120 EAHB varieties in Uganda alone that are not found anywhere else in the world.
Plantain
Plantain resemble banana but are longer in length, have a thicker skin, and contain more starch. They are also a major staple food in Africa, Latin America, and Asia. They are usually cooked and not eaten raw unless they are very ripe. Plantains are more important in the humid lowlands of West and Central Africa. One hundred or more different varieties of plantain grow deep in the African rainforests.
Videos on

BANANA and PLANTAIN

Sorry, there was a YouTube error.
Stories on

BANANA and PLANTAIN
Publications on

BANANA and PLANTAIN