Atta-Krah

,

Kwesi
Director, Advocacy and Country Alignment Function
Email: k.atta-krah@cgiar.org
Tel: +234 0700800IITA, +1 201 6336094 , Ext. 4900
Nationality: Ghanaian
Station: Nigeria (Ibadan)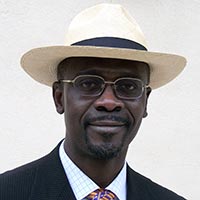 Dr. Kwesi Atta Krah, a Ghana national, is currently Director, Advocacy and Country Alignment, in the Office of the Director General. He assumed this position in January 2017.
Prior to this, from 2013 to December 2016, he was Executive Director of Humidtropics – the CGIAR research program on Integrated Systems for the Humid Tropics, that was led by IITA.
Between June 2005 and January 2013, Dr. Atta-Krah was Deputy Director General of Bioversity International, based in Rome Italy.
Earlier, he had worked with International Plant Genetic Resources Institute (IPGRI); International Livestock Centre for Africa (ILCA) – now ILRI: and with the International Institute of Tropical Agriculture, IITA.
He holds a BSc. in Crop Science from the University of Ghana, Legon (1977), and PhD in Natural Resources Management/Agroforestry from the University of Ibadan in Nigeria. His professional interests and expertise span natural resources management, integrated systems research and general management and leadership. He has experience in multi-disciplinary and multi-stakeholder research and development processes, for enhanced efficiencies and synergies. His key professional passion currently is in promoting the importance of alignment of research and delivery operations to strategic goals of countries, for accelerated impact. It is in this context that the seminar is being given.