Chikoye

,

David
Director R4D, IITA-Southern Africa Hub and Grain, Legumes and Dryland Cereals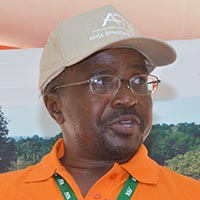 David Chikoye is the Director for the Regional Hub for southern Africa and the Plant Production and Health Management thematic area. Dr Chikoye obtained his BSc from the University of Zambia, Zambia; MSc from the University of Manitoba, Canada; and a PhD from the University of Guelph, Canada. His professional background is research on weed management in the tropics.
His main research interests include assessing the response of weed seedbanks to control options, promoting the use of cover crops for weed and fertility management, integrating the use of herbicides in smallholder farms, evaluating competition between improved crop varieties and weeds under different input levels, and promoting the uptake of improved weed, crop and natural resource management options by farmers. Other experiences include leadership of a large, multidisciplinary research project focusing on demand-driven, participatory research utilizing bottom-up livelihoods approaches.
Dr Chikoye is a member of many professional organizations such as the Weed Science Society of America, American Society of Agronomy, African Crop Science Society, Nigeria Weed Science Society, and Southern Africa Weed Science Society. He has trained many postgraduate students and has contributed to authoring over 100 refereed journal articles and conference abstracts or proceedings. Prior to joining IITA, he was a postdoctoral fellow at the University of Guelph and lecturer at the University of Zambia.