Manyong

,

Victor
Emeritus Director, IITA-East Africa
Email: v.manyong@cgiar.org
Tel: +255 22 2700092
Nationality: Congolese
Station: Tanzania (Dar es Salaam)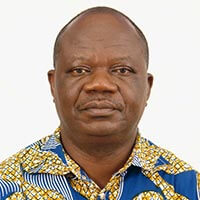 Victor Manyong is an Agricultural Economist at IITA. He is the Director for Eastern Africa and Leader of the social science research group at the institute. He also oversees IITA's contribution to the CGIAR Research Programs on Policies, Institutions and Markets (CRP2) and Agriculture for Improving Nutrition and Health (CRP4).
Victor obtained his Ph.D. in Agricultural Economics from the Catholic University of Louvain-la-Neuve (UCL) in Belgium. He worked as a Research Fellow at the same university after his doctorate studies. Upon return to his country of origin, he worked for the private sector as a director of development programs. Then he spent two years working with an international German NGO. Thereafter, he joined IITA as a postdoctoral fellow before becoming a Director and member of the IITA R4D directorate. His professional background is research on adoption and impact studies, production and marketing economics, and policy studies.
He has published extensively in refereed journals, conference proceedings, and books. He has contributed to capacity building of many postgraduate students, some of whom have become scientists in international organizations or lecturers at various universities.