Mendoza

,

Lilian
Head, Human Resources Service
Email: l.mendoza@cgiar.org
Tel: +234 0700800IITA, +1 201 6336094 , Ext. 2375
Nationality: Filipino
Station: Nigeria (Ibadan)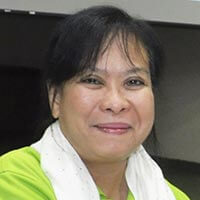 Lilian Mendoza is the Head of the Human Resources Service. She was formerly Employee Relations Manager of the International Rice Research Institute (IRRI), Philippines. Over the last two decades, Lilian has gained extensive work experience in human resources and organization development in both the public and private sectors in the Philippines and in an international organization, IRRI, a CG center.
Earlier, from August 1997 to October 2001, Lilian worked with Maynilad Water Services, Inc., Philippines in various capacities–HRM chief, training administration unit; HR field officer; HRM chief, policy management; and employee communications. Before that, she worked with Metropolitan Waterworks and Sewerage System in the Philippines (December 1985 to August 1997), first as Senior Industrial Relations Development Officer and later became industrial relations development chief.
Lilian has an MSc and a diploma, both in Industrial Relations and a BSc in Environmental Planning.