Ogunsanmi

,

Thompson
Scaling Specialist - Nigeria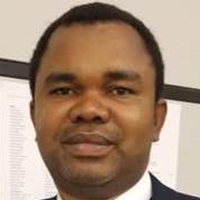 Thompson Ogunsanmi,
a Nigerian, is an agribusiness specialist, Partnership Facilitator and Value Chain Development expert. He is currently the Scaling Specialist of ACAI Project at IITA-Ibadan. He studied Crop, Soil & Pest Management from Federal University of Technology, Akure (Nigeria), holds Master of Business Administration (MBA) in Entrepreneurship and PhD in Agricultural Management from ITTL Doctoral Research & University (USA) and Atlantic International University (USA) respectively. He had a certification training on Organic Agriculture, Certification and Accreditation in University of Kassel (German Institute of Tropical and Sub –Tropical Agriculture -Witzenhausen, Germany.
Prior to his appointment, he was the Country Team Leader (2012 -2019) of 2SCALE Project for International Fertilizer Development Centre (IFDC) and Value Chain Advisor (2007 -2012) for Deutsche Gesellschaft für Internationale Zusammenarbeit (GIZ) and with over 5 years of work with Cadbury Nigeria PLC in cocoa farmers' Led intervention program. He was engaged in short assignments with ILO (via International Training Centre – Turin), UNDP (Nigeria) and has been involved for many years in building partnerships and strategies with Friesland Campina, Nestle, Heineken, SPAR, Psaltry, AACE Foods, East West Seed, etc.
He is very vast in working with private sector engagement strategies, development of partnerships that are well aligned with priorities and terms of inclusivity and how to strengthen partnerships to achieve desired deliverables and scaling of proven technologies for uptake of users and beneficiaries.