1 of every 3 cases of liver cancer in Africa due to aflatoxin, ECOWAS Parliament told
11 May 2020
Hidden deadly danger – more than 40% of food commodities in our local markets exceed maximum aflatoxin limits, including staples like groundnuts and maize; USD 600m lost in export opportunities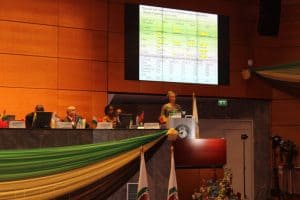 Abuja, Nigeria, 9th December 2019 – The fight against aflatoxin in West Africa's food went a notch higher at regional level, with the Parliament of the 15-country Economic Community of West African States (ECOWAS) holding a special session on 2nd December 2019 in Abuja, Nigeria, dedicated to aflatoxin.
At hand to present the facts and figures were experts from the ECOWAS Commission, the African Union's Partnership for Aflatoxin Control in Africa (PACA) and the International Institute of Tropical Agriculture (IITA).
Aflatoxin is a lethal scourge and a silent killer. "You cannot see, smell or taste aflatoxin," revealed Dr Titilayo Falade, Food Safety Scientist at IITA. Since we all eat food, all are at risk of aflatoxin including the unborn and the youngest, who are also exposed to the poison if the mother eats aflatoxin-contaminated food. And although a worldwide problem, Dr Falade pointed out that aflatoxins are a particularly big problem in the tropics, where Africa squarely sits, hence why Africa as one must rise to the challenge.
Aflatoxin is a naturally occurring poison from toxic types of the Aspergillus flavus fungus. This natural poison can enter our food at any point from the plot before harvest, to the plates at our family tables. Groundnuts, maize, sorghum, cotton-seed, chili and millet are amongst some of the foods prone to aflatoxin, with groundnuts and maize particularly vulnerable. Animals are also affected if feed is laced with aflatoxin, and they then transmit the poison to humans through their products, be this meat, milk or eggs.
"Aflatoxin affects almost all the body's internal organs," observed Dr Chris Isiokpunwu, Head of Nutrition, Federal Ministry of Health, Nigeria. "It can affect the heart, lungs, kidneys, liver and intestines. Aflatoxin leads to child stunting, weakened immunity – meaning it depresses the body's capacity to resist illnesses – and liver cancer, with aflatoxin accounting for 30% of Africa's liver-cancer cases," he elaborated.