ADWG presents policy brief to new Agriculture Minister in Nigeria
28 January 2020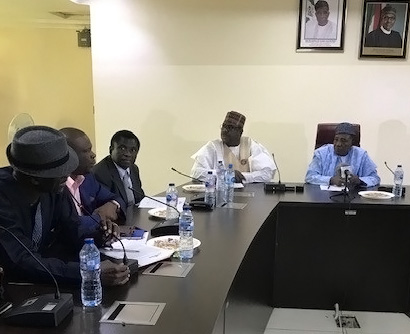 On 16 December, the Honorable Minister of Agriculture and Rural Development in Nigeria, Alhaji Sabo Nanono, received a high-level delegation of the Agriculture Donor Working Group (ADWG) in Abuja. The occasion was the presentation of the ADWG Policy Brief, which was prepared as a contribution of development partners towards the shaping of agriculture in Nigeria.
The delegation, led by USAID Agricultural Development Officer, Dr Samba Kawa, included IITA Director of Advocacy and Country Alignment Function (ACAF), Dr Kwesi Atta-Krah, who was Co-Lead on the Task Group that developed the document.
In his remarks, the Minister decried the lack of organization within the Nigerian agriculture sector and used the opportunity to share his ideas on avenues for improvement and the policy issues that need to be addressed. He mentioned that value chains should not only be limited to the level of smallholder farmers but must link with major industries such as the agro-allied industries, most of which have been shut down over the years, due to improper policy management in Nigeria.
He also called on the donor partners to focus on building human capacity in the agricultural sector, as this will be foundational in tackling most of the problems, including the key issue of weak agricultural extension system and the low number of extension agents. "We have dire need of extension agents. My last check on this was a mere 14,000 to 15,000 extension workers against a farming population of 70 million," he said.
The Minister stressed that he would do all he can to fix these, declaring an end to "Business as Usual" in the sector.
In his address, Atta-Krah commended the Nigerian Federal Government for maintaining policy consistency and urged the government to do more in coordination and organization between the states. He also expressed delight with the policy brief, which was developed as part of the agriculture promotion policy that will bring about agricultural transformation in the nation.
The ADWG is a consortium of development partners who support agriculture such as the World Bank, International Fund for Agricultural Development (IFAD), United Nations Industrial Development Organization (UNIDO), and African Development Bank (AfDB). Other stakeholders include the Japan International Cooperation Agency (JICA), GIZ, International Food Policy Research Institute (IFPRI), Bill & Melinda Gates Foundation, US Agency for International Development (USAID), Food and Agriculture Organization (FAO), Alliance for a Green Revolution in Africa (AGRA), and IITA.