Africa RISING –NAFAKA partnership benefits over 50k households in Tanzania, exceeding targets
4 January 2018
The partnership between two projects funded by
USAID
,
Africa RISING
, and NAFAKA, and whose goal is to promote integrated packages of technologies to smallholder farmers to sustainably increase their agricultural production, has benefited over 50,000 rural households in Tanzania. A further 58,000 hectares of farm l and are under the improved technologies or management practices introduced by this initiative. In both cases the project has way exceeded its target.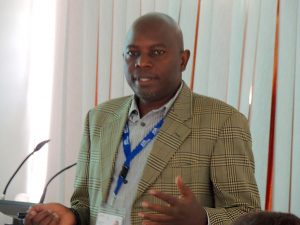 This was reported by Haroon Sseguya, IITA Technology Scaling Specialist, in a seminar on the two projects at the IITA Eastern Africa hub in Dar es Salaam, Tanzania. The presentation was titled 'Scaling sustainable agricultural intensification technologies in Tanzania: Achievements, lessons and plans for future IITA interventions.'
The efficacy of the technologies being promoted to increase agricultural productivity while meeting high st andards for sustainability in environmental, economic, and social terms, had been proven through research under the first phase of the Africa RISING project.
The technologies included new improved new high-yielding, drought-tolerant varieties of food crops (maize, legumes, rice, and vegetables) and best-bet agronomic management packages including appropriate use of external inputs such as fertilizers, and improved postharvest management technologies.
The project also looked at protection of l and and water resources including soil and water management, tackling soil acidity/salinity, and introducing and promoting improved postharvest management technologies to ensure the products meet quality st andards of markets.
"Research findings show that over 30% of cereals are lost due to poor postharvest management. The impacts of postharvest losses cut across the social, economic and political aspects of farmers' welfare. They demotivate farmers from investing in improved technologies to increase production and results in low earning and food insecurity," says Sseguya.
The project introduced improved technologies such as use of motorized shelling machines, Collapsible Dryer Cases (CDC) for drying, and hermetic bags for grain storage. It also included Aflasafe, a safe natural biocontrol solution for aflatoxin contamination developed by IITA.
On the lessons learned in efforts to disseminate these packages of technologies, Sseguya said investing in building capacities of farmers to adopt these technologies was key. The initiative conducted a lot of training for farmers including working with lead farmers who in turn trained other farmers, thus enhancing the capacities of local communities.
"Partnerships were also central to scaling sustainable intensification innovations. The partnerships needed to be flexible, depending on the task at h and," he said. They were defined by shared accountability, constant dialogue, joint learning, and joint mobilization of resources, and involved a range of partners.
Sseguya said that the technologies also needed to be suitable to the agroecological and socioeconomic conditions as well as documented through manuals and protocols that are easy for the farmers to follow.