AGRA Board chair, former Ethiopia PM, and Tanzania President tour IITA-Tanzania
16 July 2021
IITA
-Tanzania recently hosted the Board Chair of the Alliance for a Green Revolution in Africa (AGRA), former Ethiopian Prime Minister H.E. Hailemariam Desalegn, and the former Tanzania President H.E. Jakaya Kikwete, who is also an AGRA  board member and senior staff of the organization. H.E. Desalegn was in the country to familiarize himself with AGRA's work in Tanzania and meet their partners, such as IITA.
The Director of IITA-Eastern Africa hub, Leena Tripathi, received the delegation. In a brief meeting, she shared IITA's work in Tanzania and Eastern Africa, including projects in collaboration with AGRA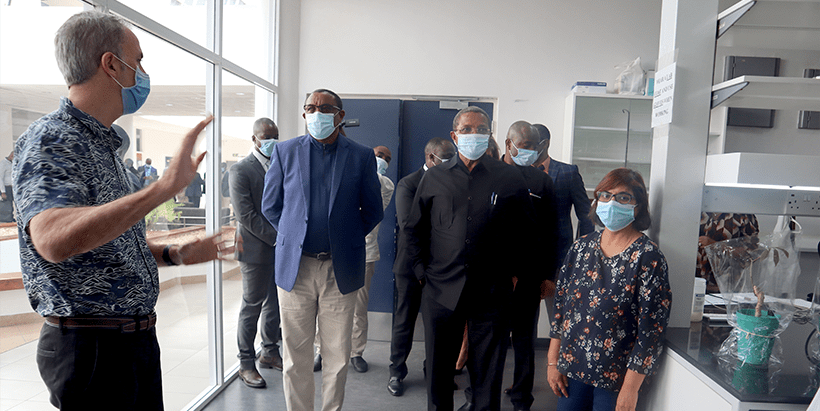 H.E. Desalegn thanked IITA for hosting AGRA in Tanzania and noted the need to increase collaboration between the two organizations and with the One CGIAR. He also highlighted the importance of advances in science to find solutions to the continent's challenges, especially in gene editing. He emphasized the importance of scientists being at the forefront of communicating the technology and its potential in breeding to the public and not politicians.
After the meeting, the visitors toured the Molecular Biology Lab. James Legg, IITA Plant Health Scientist and Plant Vector Entomologist, and his team described IITA's research on two deadly viral diseases—cassava mosaic and cassava brown streak, which are constraints to cassava production in the region.
Massoud Amour, a research assistant, described current work to control the whitefly vector of cassava viruses, using bio-based strategies, including the use of biopesticides and essential oils.
Legg also demonstrated the NURU app that helps farmers diagnose diseases affecting their cassava plants correctly. It was developed by Penn State University/Plant Village and IITA, with support from CGIAR's BigData Platform and the Roots, Tubers and Bananas Program.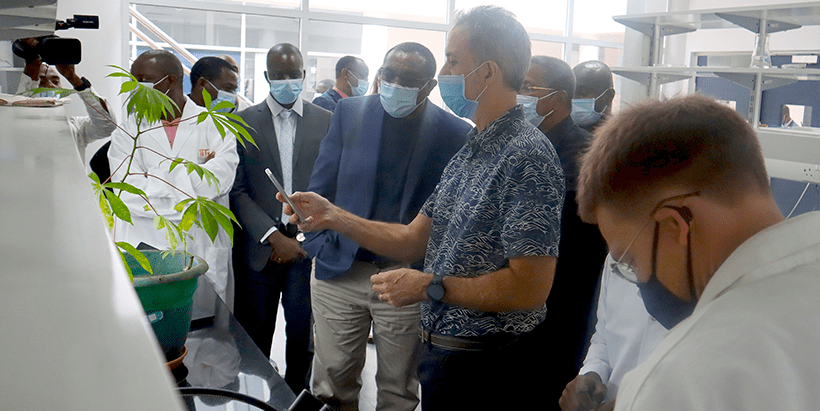 The dignitaries were impressed with the technology and urged for more efforts between the developers and IITA, working hand-in-hand with national agencies and the Ministry of Agriculture, to popularize this exciting new app in Tanzania and maximize its potential benefits.
H.E. Kikwete's last visit to IITA's Dar es Salaam campus was eight years ago when he inaugurated the new science building as the President of the United Republic of Tanzania.
IITA and AGRA have been working together to commercialize cassava in Tanzania, including developing the country's national cassava strategy. In Uganda and Rwanda, IITA and AGRA are working to create awareness on aflatoxins—the deadly poison produced by the Aspergillus flavus fungus and Aflasafe™, the effective biocontrol product developed by the Agricultural Research Service (ARS) of the US Department of Agriculture (USDA) and adapted for Africa by IITA and partners.