AICRRA-Ghana launch: Fostering partnerships for technology development
13 October 2021
On 14–16 September, the Accelerating Impact of CGIAR Climate Research for Africa-Ghana Cluster (AICCRA) was launched at the Alisa Hotel, Accra, Ghana. The project aims to bridge the gap between research institutes that produce improved technologies and development organizations that promote improved technology adoption.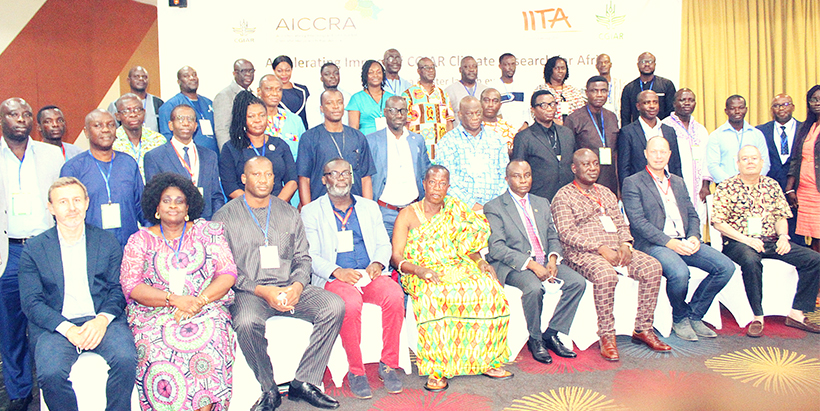 The project, funded by the World Bank and led by IITA, seeks to scale the most strategic and impactful CGIAR Climate Change, Agriculture and Food Security (CCAFS)-Africa programs that promote resilience to climate change and improved food security. The focus is on six World Bank International Development Association (IDA)-eligible countries in Africa, including Ghana.
Michael Abberton, IITA West African Hub Director, gave an overview of IITA's mission. "Most of our work focuses on climate change, and our overall mission is to reduce food insecurity, alleviate poverty, and build sustainable livelihoods," he said. He further explained the importance of the project, "This project is taking some of the things already developed, making them impactful, and accelerating the impact." Abberton pointed out that climate change and resilience to climate change are not only about drought, heat, terrible rainfall, etc., but also about ways in which pests and diseases could change the pattern of distribution, frequency, and severity. "We already see good examples of that in Africa," he concluded.
Dr Moses Monchia, the Director of the Council for Scientific and Industrial Research (CSIR)-Crop Research Institute, said, "The AICCRA project is a useful intervention and it aligns very well with our national priorities." He explained that in scaling up, there is a need to develop collaborative research and build partnerships with major stakeholders.
Dr Lorenzo Carrera, the sector lead for sustainable development at the World Bank, said that agriculture remains at the center of the livelihoods of millions of people in Africa. However, many remain food insecure and malnourished. "The World Bank has been scaling up support for climate-smart agriculture to help African countries boost their resilience to climate change," he said. He further promised that "The World Bank, with the new climate-change action plan, will step up its support in countries on addressing climate change and boosting resilience."
The guest speaker, Prof. Victor Agyeman, Director General, CSIR Ghana, appreciated the different partners involved in the AICCRA-Ghana cluster project for taking steps to minimize the effect of climate change. "This program would make a lot of change as it is transformative, and we need to embrace it, and ensure that it is successful." He concluded that the program should be applauded and supported by all African countries.
"We have put mechanisms in place to enhance synergies and collaboration between the different partners involved in AICCRA-Ghana," said Tepa-Yoto Grishlain, the project lead. Since partnership is critical for the project, farmer organizations will be connected through the nearest mechanism. "We will ensure that whatever technologies we are promoting are meeting the true needs of farmers; therefore, the farmers will really occupy the central position in this project," he added.
In terms of sustainability, the project will foster public-private partnerships to ensure that whatever technology is developed within the project can serve future generations.
The One Health platform, which is an integrated, collaborative, multisectoral, and transdisciplinary system, was officially launched during the meeting. This platform will work at the local, national, regional, and global levels to achieve optimal health outcomes, recognizing the interconnection between people, animals, plants, and their shared environment.
The AICCRA project is built on CGIAR's multi-stakeholder platform of the Biorisk Management Facility (BIMAF) hosted by IITA's station in Benin, West Africa. Partners are the CGIAR Climate Agriculture & Food Security (CCAFS) Research Program, International Water Management Institute (IWMI), Alliance Bioversity-CIAT, World Agroforestry (CIFOR-ICRAF), ICRISAT, Center for Agriculture Biosciences International (CABI), Norwegian Institute of Bioeconomy Research (NIBIO), Crop Research Institute (CSIR/CRI), Ministry of Food and Agriculture (MoFA/PPRSD), Ghana Meteorological Agency, and the Climate Change and Agriculture Department of the University of Development Studies (CCAD/UDS).