Baale of Araromi confers chieftaincy title on IITA Director General
16 April 2021
The 
Baale
 of 
Araromi
 Idi-
Ose
, Chief Rahman Adebayo 
Oniduhun
, 
has conferred
a traditional chieftaincy ti
tle on
IITA's Director General, 
Nteranya
Sanginga
. This
followed
 a visit to the 
IITA
 headquarters of a
 delegat
ion
 of 
10 
chiefs from
 the Institute
's
host community
,
Idi-
Ose
 land, led by the new 
Baale
 on 15 April. The 
DG received the 
delegates 
with the
 D
eputy 
D
irector 
G
eneral
,
 Corporate Services, 
Hilde Koper
; Head Security 
and 
Safety, 
David 
Oluwadare
; Manager for Resource Protocol, Toyin 
Oke
; and 
members of 
IITA's Communication team.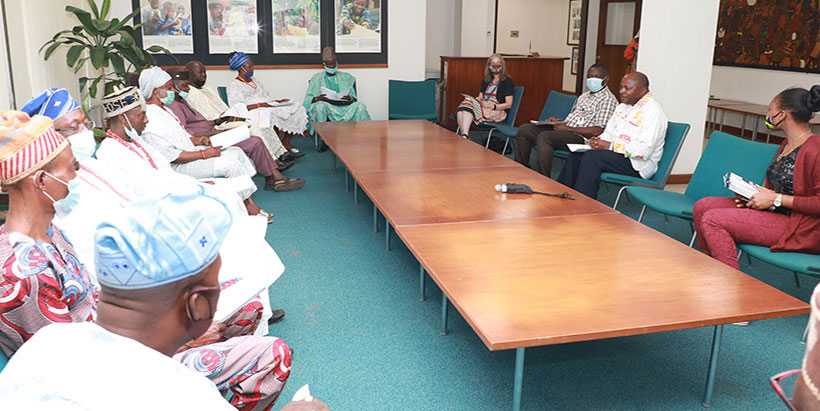 DG Sanginga welcomed the guests, giving a brief overview of IITA's location, forest, lake, workforce, and the Institute's presence in other countries. In a reminiscing story describing his journey from Congo to Nigeria, he emphasized the need to foster good relationships with one's host community. 
Chief Ajagbe, speaking for the delegates, thanked IITA for being a resourceful contribution to their community, and Dr. Sanginga, especially, for being a listening and approachable Director-General. "We acknowledge that since you arrived and took over the helm at IITA, good and positive changes have come, with improvements manifesting in both the staff and management and the organization in general," he said. 
The Baale further requested IITA's help in providing specific developmental components to their community: a public health center, public toilets, IITA shopping plaza, employment for indigenes, and water points. Sanginga clarified some of these demands and said he would not make promises he won't fulfill. He suggested another meeting with the chiefs where IITA's contributions will be made known to them after making a needs assessment. He promised to air some of the requests needing government support to the Governor of Oyo State, who is a friend of the Institute. 
The Baale, in response, conferred the chieftaincy title of "Bobajiriro of Idi-Ose land" on DG Sanginga. He further requested DG Sanginga's approval to use IITA's Sports complex for the coronation to be celebrated on 26 June 2021.