IITA commences confined field trials of transgenic cassava
17 December 2017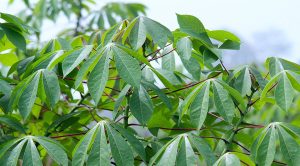 The International Institute of Tropical Agriculture (IITA) was recently granted a permit to carry out Confined Field Trials (CFT) on genetically modified cassava (AMY3 RNAi Transgenic lines). This research, carried out in collaboration with ETHZ Plant Biotechnology Lab in Zurich, aims to reduce starch breakdown in storage roots of cassava after pruning the shoots, prior to harvest of the crop. The objective is to obtain storage roots with lower postharvest physiological degradation without any loss of the nutritious starch.
Cassava (Manihot esculenta Crantz) is an important starchy food crop in sub-Saharan Africa (SSA) as well as other tropical and subtropical regions. However, one of the challenges faced by cassava farmers is the high level of postharvest loss caused by rapid deterioration of the starch-rich roots which occurs naturally after harvesting. Though the postharvest deterioration can be reduced by pruning the shoots of cassava plants without unearthing the roots, this poses a problem as the desirable starch stored in the root can be degraded by the plant after pruning, which in turn lowers the harvest yield and root quality.
In order to address this, a research project was conceived at ETH Zurich where cassava plants using cultivar 60444 were generated using RNAi as the tool to try to reduce starch breakdown in the root after pruning of the shoots. Extensive testing was carried out in greenhouses in Switzerl and, where the plants were grown for three consecutive years.
"Our greenhouse experiments were an important first step, but they cannot substitute for genuine field conditions," said Prof Samuel C. Zeema. "Hence, it is necessary to grow the plants in a tropical climate such as that of Nigeria. IITA is an excellently equipped and well-staffed institute at which to perform such a confined field trial."
The CFT permit was issued by the National Biosafety Management Agency in accordance with the National Biosafety Agency Act 2015 and is for the period 22 September 2017 to 31 December 2018. IITA adheres strictly to national and international biosafety st andards and will ensure that these are enforced during the trials, which will be carried out within the IITA campus in Ibadan.
The research is a fact gathering process to gain fundamental knowledge about starch metabolism in the storage root and about cassava as a crop. The cassava plants from the confined field trial are not destined for the market nor for commercial development and therefore will not be consumed. And according to national regulations, all plants will be destroyed within the CFT site after analysis.
As part of the experiment, regrowth of stem cuttings from the plants will also be assessed, since regrowth may also depend on starch stored in the stem. This is important since cassava is normally propagated by stem cuttings and not by seed.
The primary beneficiaries of the knowledge gained from this research ( and its eventual application for cassava improvement) would be cassava farmers in Nigeria and other regions.
# # #
About IITA
The International Institute of Tropical Agriculture (IITA) is a not-for-profit institution that generates agricultural innovations to meet Africa's most pressing challenges of hunger, malnutrition, poverty, and natural resource degradation. Working with various partners across sub-Saharan Africa, we improve livelihoods, enhance food and nutrition security, increase employment, and preserve natural resource integrity. IITA is a member of CGIAR, a global agriculture research partnership for a food secure future.
For more information, please contact: Katherine Lopez, Head of communication, k.lopez@cgiar.org