DG pushes for early mobilization of young people in agriculture
21 September 2017
During his trip to IITA-Kalambo on 31 August, DG Nteranya Sanginga visited the Centre de Recherche en Sciences Naturelles de Lwiro (CRSN/LWIRO), one of IITA's national research partners based in Bukavu, to meet with CRSN/LWIRO Director General Prof. Jean Marie Mushagalusa. Dr. Sanginga was accompanied by Noel Mulinganya, the coordinator of the IITA-Kalambo Youth Agripreneurs (IKYA) and the leader of New Day Africa, a youth group that is involved in promoting agriculture as a sustainable means of livelihood at the secondary school level. New Day Africa was one of the youth groups that won prizes at the competition organized by IITA during its 50th-anniversary celebration in Bukavu.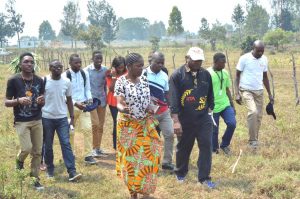 During the visit, the DG inspected IKYA's fish ponds donated by CRSN/LWIRO and had interesting discussions with CRSN/LWIRO, IKYA, and New Day Africa on their activities.
Building on the memor andum of underst anding between IITA and CRSN/LWIRO, the two DGs identified areas of collaboration to stimulate youth employment as well as reduce rural poverty in South Kivu.
"Getting pupils at primary and high schools to have the right mindset about agriculture at an early stage is critical to the drive of successful promotion of youth agripreneurship as well as building the future cadre of agricultural researchers," Sanginga remarked.
Prof Mushagalusa, the DG for CRSN/LWIRO, thanked IITA for its interest in collaborating with his research center and agreed to provide IITA with farml and for evaluating improved crop varieties and promotion of youth and women's involvement in agri-enterprises. The Institute would also assist in disseminating agricultural technologies developed by IITA.
Sanginga, on his part, appreciated the gesture from his counterpart and assured CRSN/LWIRO that IITA will make maximum use of this opportunity to address agricultural challenges in the region, explore opportunities for a youth incubation center at CRSN/LWIRO and jointly pursue collaborative initiatives with the University of Kyoto (a key LWIRO partner).
The two DGs agreed to support New Day Africa in their efforts to promote agriculture in high schools.