DG Sanginga to be conferred doctor of honoris causa from KU Leuven, Belgium
22 March 2019
The Academic Council of KU Leuven has nominated DG
Nteranya Sanginga
to receive the degree of doctor of honoris causa. The award will be conferred on the occasion of the 20
th
anniversary of VLIR-UOS, an organization that supports partnerships between higher education institutions in Fl anders and the South.
The five partner universities under VLIR-UOS will host a ceremony to confer a total of five honorary doctorate degrees—one from each university—on individuals with exceptional distinction whose work is relevant to the mission of VLIR-UOS.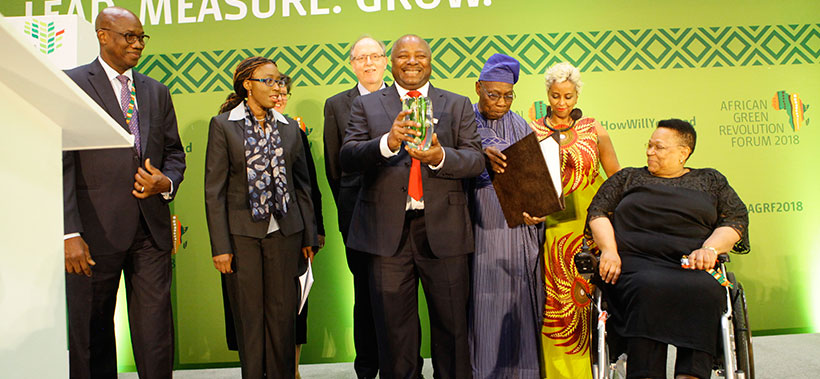 https://www.kuleuven.be/english/ is Belgium's largest and highest ranked university. As the oldest university in the Low Countries, it has a centuries-long tradition of conferring honorary doctorates in recognition of extraordinary scientific, social, or cultural achievements.
https://www.vliruos.be/en/about_vlir_uos/2supports partnerships between universities and university colleges, in Fl anders and in the South, looking for innovative responses to global and local challenges. They achieve this by:
stimulating cooperation projects between professors, researchers, and teachers
giving scholarships to students and professionals in Fl anders and the South
supporting and strengthening higher education in the South as well as global development-based internationalization of higher education in Fl anders.
In a letter, Prof Luc Sels, Rector of KU Leuven, said that in conferring the title of doctor of honoris causa to Sanginga, the university community "wishes to recognize you for your visionary leadership of IITA, which you have turned into a research-for-development organization that enables African scientists to partner up with colleagues and institutions from all over the world."
Sels further said, "We also want to recognize your contributions to the transformation of sub-Saharan agriculture, and your efforts to improve African farmers' health and quality of life. Together with your team, you have helped reduce poverty in the area, improve food security, and increase youth employment. Taken together, your achievements definitely warrant our university's highest distinction."
The other nominees are Professor Claric Garcia Borges Demetrio, Mr Jose Ramon Saborido Loido, Mrs Leymah Gbowee, and Dr Jean-Jacques Muyembe Tamfun.
The award will be conferred on 15 May at a ceremony to be hosted by VLIR-UOS at KU Leuven in Brussels, Belgium.