Renowned international journal says IITA's drought-resilient maize takes pressure off African farmers
10 June 2017
Is drought-resilient maize an answer to pressure on African farmers through climate change? Renowned
Rural 21
—the International journal for rural development in its May 2017 edition featured responses from a panel of experts including
Tahirou Abdoulaye
, IITA's Agricultural Economist, who spoke during the meeting of the Center for Development Research (
ZEF
) in Bonn, Germany.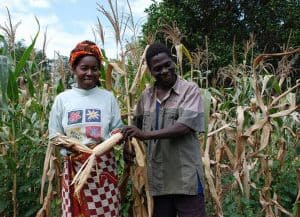 Maize is an important staple food crop in most of sub-Saharan Africa, and it is grown on around 33 million of the total 194 million hectares under cultivation in the region. However, El Niño and global warming have had a dramatic effect on farming in many areas. The 2015-2016 El Niño event was one of the strongest on record. Among the countries affected in Africa was Ethiopia, which saw its worst drought in decades. The country, which is the continent's fifth largest maize producer, suffered huge crop losses, and an estimated 1.35 million farmers were left without new seed.
In West Africa, global warming is set to trigger shorter rainy seasons, more arid conditions, longer dry spells, and more droughts. According to an IITA survey, farmers in Northern Ghana consider drought and floods as the biggest challenges to their income and to food security. Together with the International Maize and Wheat Improvement Center (CIMMYT), IITA launched the "Drought-Tolerant Maize for Africa" (DTMA) project in 2006 that now operates in 13 countries in sub-Saharan Africa. Results and experiences from this program, which ended in 2015 and also included genetically modified maize, were discussed at a ZEF meeting in May 2017.
In 2015, Abdoulaye participated in an IITA study among 2,305 farmer families in Nigeria 24% of whom, it was established, had adopted drought tolerant maize varieties. The study also found that the combination of access to seed had a huge impact on the adoption rate, with the rate rising to 90% where access was good and farmers' families were sufficiently informed about the advantages of the new plants.
Referring to problems the project faced, Abdoulaye maintained that the effectiveness of extension systems was declining in Africa. "We were pushing the new technology for 10 years," he told the meeting participants. "And yet there were still communities that hadn't heard of it." Another disadvantage Abdoulaye mentioned was the issue of recycling. There was no hybrid seed to sell.
The social and cultural implications of seed and planting material were also addressed by David Millar, Vice Chancellor of the Millar Institute for Transdisciplinary and Development Studies in Bologatanga, Ghana. Millar stressed that the new seeds always put new dem ands on farmers, and that a farmer always had to look at the entirety of uses.
"Farmers usually keep their seeds, although they may also procure additional seed from other farmers," Millar said. "Surrendering that culture to other institutions is a delicate issue. Some seed has to be kept. The situation is too insecure to rely on external seed supply."
Ernst Mill, Team Leader of the"Adaptation of Agro Eco Systems to Climate Change" (AAESCC) program, run by Deutsche Gesellschaft für Internationale Zusammenarbeit in Ghana, promoted technologies in the country's extension systems for more than four years. Mill noted that meager rainfall was to blame for 50-60% of losses in cereal production. Across the entire sub-Saharan region, maize production averages 1.8 t/ha, which is far below the crop's genetic potential. Pooled across three years, the W andata variety, which proved to be most popular, yielded an average of 2.4 t/ha, although 2.7 t were harvested in some areas.
The meeting concluded that there was indeed a need for the new maize varieties in the areas affected by extreme weather conditions. However, it also became clear that their impact should not be overestimated.
See full DTMVs research paper here. Culled from Rural21