Fall armyworm has reached the Indian subcontinent!
4 August 2018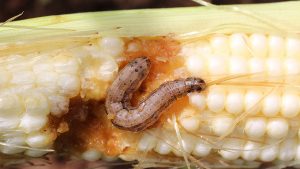 The Fall Armyworm, (Spodoptera frugiperda) (FAW), has been detected for the first time on the Indian subcontinent in mid-May this year in maize fields at the College of Agriculture, University of Agricultural and Horticultural Sciences (UAHS), Shivamogga, Karnataka, reported IITA Scientist Georg Goergen. Goergen provided technical assistance in tracking the pest's identity.
Following morphological identification, Drs. Sharanabasappa and Kalleshwara Swamy of UAHS confirmed the pest's identity using molecular techniques. Similar information has also just been released based on independent investigations by the National Bureau of Agriculturally Important Microorganisms (NBAIR) under the Indian Council of Agricultural Research (ICAR).
The FAW is a moth (family Noctuidae) native to the tropical and subtropical regions of the Americas where it is an important pest primarily of maize, but also of several grain crops, vegetables, and wild plants. Besides feeding on various kinds of food, FAW undergoes a relatively short development cycle and has a high reproduction rate with about 1000 eggs per female. In addition, adult moths display a remarkable long-distance flight ability. All these attributes make FAW a highly performing migrant and a potentially dangerous invasive species.
In early 2016, FAW was first detected by IITA scientists on the African continent following initial caterpillar outbreaks on maize in Central and Western Africa. Shortly thereafter, the pest was also found in Southern Africa and to date FAW has established in 44 countries of tropical Africa, a perimeter of more than 22 million km2. On the African continent, FAW already exacerbates the food insecurity of some 208 million maize consumers and jeopardizes the economies of numerous countries, thereby affecting the livelihoods of millions of maize producers, mostly small-scale farmers.
Recent investigations by Centre for Agriculture and Biosciences International (CABI) in 12 African countries have revealed that in the absence of adequate management measures FAW has the potential to inflict yield losses averaging 21-53% or an equivalent of 8.3 to 20.6 million tonnes of maize per year. The monetary value of these losses is estimated to reach between US$2.5 and 6.2 billion, with an additional $13 billion worth of crop at risk.
To provide adequate response for FAW containment, IITA has become a leading partner in Africa to develop—together with national and international partners—management solutions focusing on low toxicity biopesticides, biological control involving natural enemies and entomopathogens, varietal tolerance, and low-cost agronomic practices.
Since the introduction of FAW on the African continent its rapid expansion in all geographic horizons has remained unbroken with steady incursions in regions including areas beyond the main continent. Thus, by mid-2017 the voracious pest had established on the Cape Verde isl ands and later in the year on the Seychelles, some 800 and 1300 km away from the mainl and, respectively.
The outbreak in the Indian subcontinent is particularly worrying because with this new foothold, FAW now has an unrestricted access to a whole new region of the globe. Its occurence with high incidence in the South Indian state of Karnataka is likely to be soon followed by spreads to the Tamil Nadu and Andhra Pradesh states that are major regions for hybrid maize seed production in India.
Further expansion of FAW to countries adjacent to India such as Bangladesh, Nepal, Pakistan, and beyond will put the maize production of the whole Asian continent seriously at risk with dire economic consequences
See links below for more information: