Fighting together: IITA stations respond with innovations
23 May 2020
With the outbreak of COVID-19,
CGIAR-IITA
has placed a particular focus on working with governments in sub-Saharan Africa to strengthen their food systems to combat and win against the scourge of this pandemic. Aside from this holistic response from the Institute, IITA stations in different localities have come up with various innovative solutions geared towards helping their immediate communities to cope with the fallout of the outbreak.
Fighting COVID-19 in Benin: Street handwashing systems for bike riders and pedestrians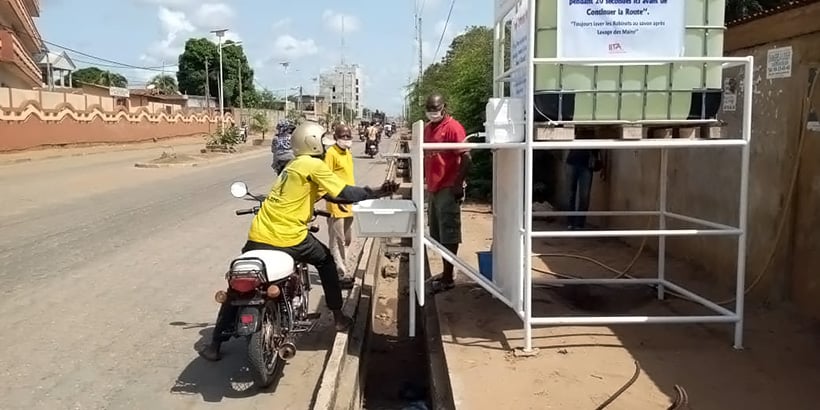 Streets are meeting points for most individuals, as people must move from one end to another for their various activities. Hence, streets could become hotspots for COVID-19 contamination and spread. To limit the spread of this virus in the community, IITA-Benin on 4 May, launched a street hand washing system in the Calavi neighborhood of Cotonou, Benin. This system is designed for easy and quick hand washing of street users such as bike riders, pedestrians, and even vehicle users.
In the case of Benin, the targets for this prototype installation outside the IITA-Benin fence were primarily taxis well known as "Zemidjan". The idea of this simple but efficient "drive-in" washing device was spurred by the need for each IITA location to come up with innovative solutions to address the pandemic. IITA Molecular Entomologist and Head of the AgroEcoHealth Platform in Cotonou, Rousseau Djouaka, developed the solution with the technical assistance of the Head of Facilities Management Services (FMS), Gontran Honfoga, and the FMS team.
The IITA-Benin Station Administrator, François Tosse, inaugurated the device with the participation of Zemidjan drivers and passers-by.
This system is expected to be expanded to more streets in other African countries for limiting the spread of COVID-19 and other diseases associated with Water and Hygiene Solutions (WaSH).
The masked heroes: Special face masks for IITA-Mozambique workers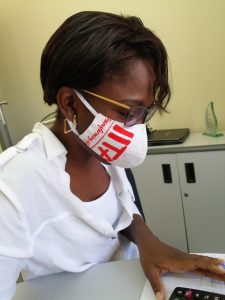 As people returned to work in the Republic of Mozambique, the government mandated the use of face masks in public places as part of guidelines to prevent the spread of COVID-19. Within the IITA-Mozambique station, management was hard at work, ensuring that the Institute complied with these measures, not only among staff but also local partners, including members of the farmers' associations.
IITA is achieving this by producing and making available custom-designed face masks with IITA branding for all staff, as well as farmers' association members during field days. They also ensured the events complied with the guidelines by limiting attendance to a maximum of 10 people per event.
Farmers and research workers are essential to preserving food security in every society, so IITA is trying to keep these heroes safe by educating staff and partners about measures to prevent the infection and spread of COVID-19. Some of the guidelines highlighted during these events include the use of personal protective equipment (PPE), social and physical distancing, and hygienic practices such as frequent hand washing.
IITA Rwanda supports vulnerable families during the lockdown
Due to the lockdown restrictions in Rwanda beginning on 16 March, all non-essential activities shut down, leaving many vulnerable families who depend on small businesses such as fruit stands, restaurants, and bars, without a source of income. This disruption to their finances and the ability to get food made the risk of starvation a possibility.
IITA-Rwanda applied for and was granted official travel clearance from the police due to the essential nature of agriculture. Having observed the challenges facing these families, on 27 March, IITA-Rwanda general staff and management put together a contribution 500,000 FRw (Rwandan franc) to support them by supplying foodstuffs. This budget helped to purchase various food items for vulnerable communities in the Kacyiru Sector in Kigali City, where IITA-Rwanda offices are located.
Two IITA Rwanda staff delivered the items to the sector's Executive Secretary Gertrude Urujeni, who then gave them to identified most vulnerable families since public gatherings were not allowed as a preventive measure against COVID-19.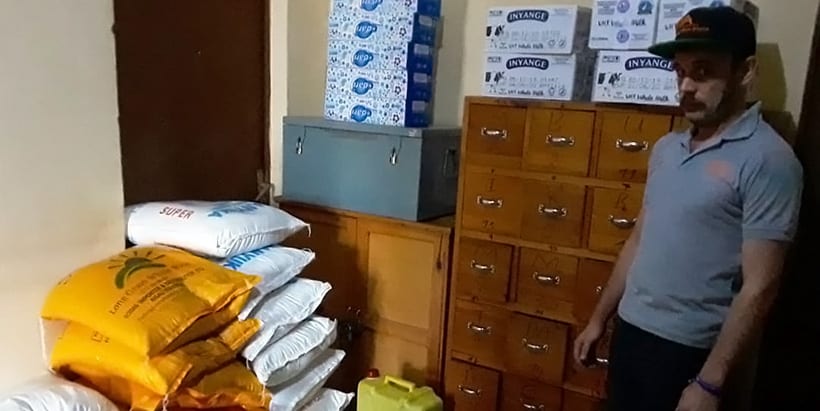 "We now count 900 vulnerable families in our sector who are in deep need of food. This is the first support we have received so far. We will start with families having small children and old people," said Urujeni. "Thank you very much for thinking of your neighbors. You have set a good example for other organizations to do the same to their neighboring vulnerable families."
The government subsequently set up a support system to ensure that all vulnerable families across the country received food support, depending on the number of each family, during the lockdown period.