French delegation explores agribusiness collaboration with IITA Abuja
17 April 2019
IITA, the French Embassy in Nigeria, and the 
French Agriculture Research Centre for International Development
 (CIRAD) held a meeting on 27 March at the IITA Abuja Station to strengthen existing partnerships among the three organizations.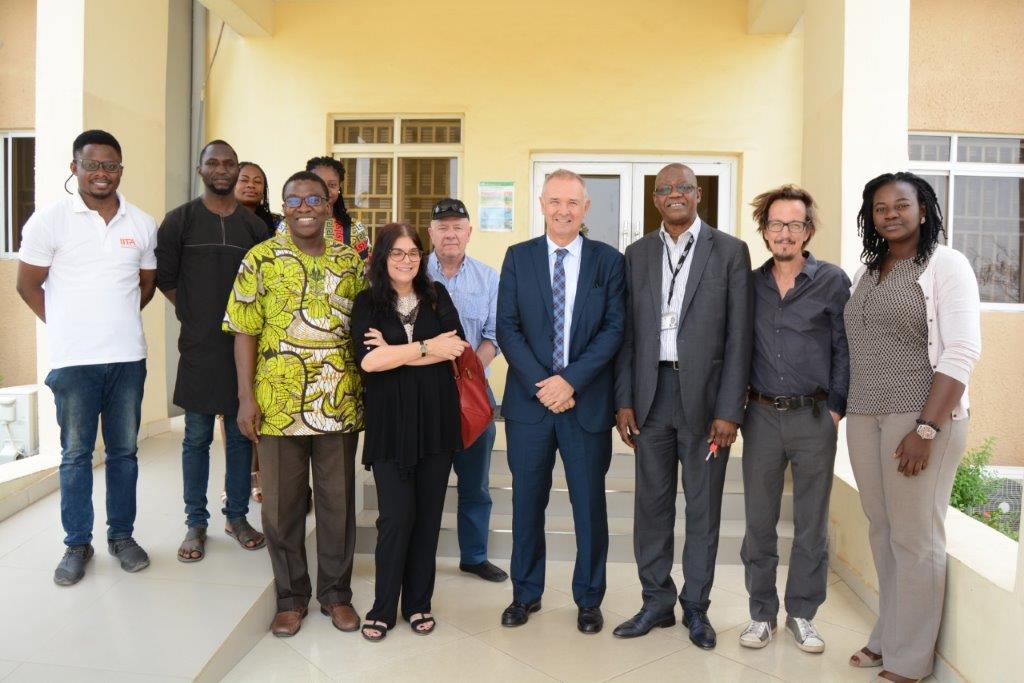 The objective of the meeting was for all parties to better underst and their respective areas of expertise and explore areas of collaboration for the implementation of potential projects as a means of deepening IITA's relationship with the French Embassy in Nigeria.
IITA representatives at the meeting were Gbassey Tarawali, Head of Abuja Station; Adebowale Ak ande, Senior Agribusiness and Development Specialist; Terngu Abur, Marketing and Visitors Service Officer; and Mary Mbafan Ukam, Project Assistant. They welcomed the French delegation, which comprised Patrice Grimaud, CIRAD Regional Director for Humid West Africa; Philippe Vernier, CIRAD Senior Adviser for International Organizations; and Root and Tuber crop Agronomist; Tancrede Voituriez, Economist and CIRAD Scientist; and Professor Leila Mathieu, Science and Higher Education Attaché at the French Embassy in Nigeria.
In his welcome speech, Tarawali gave an overview of the activities of IITA, which had shifted from being a strictly research-based institute to research for delivery, with a strong focus on scaling out and commercialization of agricultural innovations through the IITA Business Incubation Platform (BIP). He emphasized the importance of IITA Abuja in building strategic partnerships, exploring how a partnership with CIRAD would further build other relationships across West Africa, not just Nigeria.
Ak ande highlighted IITA's strength in supporting food systems and food safety through aflatoxin control. He also noted IITA's work in breeding biofortified crops to enhance nutrition and ensure the competitiveness of agricultural production in domestic, regional, and international markets.
In his response, CIRAD Senior Advisor Vernier noted the organization's longst anding relationship with IITA, affirming that IITA's objectives and priorities aligned with those of CIRAD, especially around partnerships for delivery. He stated that the delegation was interested in learning more about IITA's engagement with private sector companies in Nigeria and revealed
that CIRAD was open to establishing a partnership with IITA, which has a reputable history in the agricultural sector in Africa. Therefore, CIRAD is willing to collaborate with IITA to develop new proposals and implement projects on diverse agribusiness and agric-financing related issues.
To build this strategic relationship, it was proposed that a French delegation led by the Ambassador, visit IITA leadership in Ibadan, Nigeria. This would be an opportunity for IITA to formalize a partnership with both the French government and CIRAD.
Furthermore, IITA Abuja has indicated its interest to participate in a one-day event, Campus France, organized by the French Embassy, scheduled to take place in Paris on 5 June. Campus France focuses on education and agriculture, and is a platform for universities and research centers in Africa to interface with French research centers and universities. Mathieu confirmed the successful award of the grant on Adaptation to Climate Change—a two-year project to build the capacity of seven universities in Nigeria. She also revealed her interest to facilitate bringing the French National Research Institute for Development (IRD) to Nigeria.