Gabon explores areas of partnership with IITA
14 September 2018
The Prime Minister of the Republic of Gabon, His Excellency Emmanuel Issoze-Ngondet, is exploring a partnership with IITA in the area of youth engagement in agriculture.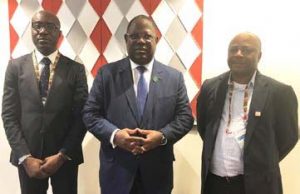 The Prime Minister, who met with a delegation from IITA led by Director General Nteranya Sanginga on 8 September in Kigali, Rwanda, highlighted some of the challenges facing the agriculture sector in Gabon and wants IITA to use its expertise to assist the country in addressing some of its challenges.
He pointed out that young people in Gabon have shown little interest in the agricultural sector, hence the sector is dominated by ageing men and women who operate at minimum scale. This, according to him, is a result of young people's mentality that they cannot make a livelihood in agriculture. He added that the country has come to realize that it needs to act fast in ensuring that the youth change their mindset to "secure the agriculture sector."
"We need to convince the young people that they can make a livelihood outside of administrative/government jobs, but because they are impatient and agriculture requires a lot of patience, they run away from it. It is important to engage the youth and encourage them to return to the land, because that is the foundation of development," he stated.
Speaking on how to engage youth in agriculture, Sanginga explained about the IITA Youth-in-Agribusiness model. He related how IITA started with a pilot group of about 30 young people and changed their orientation about agriculture. He said that although this took some time through the incubation program, many of them now own and operate private agribusiness enterprises.
He added that the program, which started with a small group in Nigeria, is now being replicated across Africa.
Sanginga also gave an overview of research at IITA, including recent developments in cassava and the work that IITA is currently carrying out in Togo. He expressed the need to get Gabon engaged and the need for their financial support. He added that IITA is ready to assist and has the technical resources to start supporting agricultural development in the country.
The Head of the TAAT Clearing House, Mpoko Bokanga, also gave an overview of the TAAT program.
Gabon's Minister of Agriculture, Biendi Maganga-Moussavou, who was also part of the meeting, was very excited about partnering with IITA and TAAT, especially regarding the youth program. He emphasized the need for providing technical training for the youth agribusiness programs.