IITA and CIRAD sign MoU for building sustainable farming systems
1 June 2019
During the visit of His Excellency Mr Jerome Pasquier, Ambassador of France to Nigeria on 14 May, IITA signed a memor andum of underst anding (MoU) with
Centre de Coopération Internationale en Recherche Agronomique pour le Développement
 (CIRAD), as both institutes share commonalities in working for the sustainable development of tropical regions.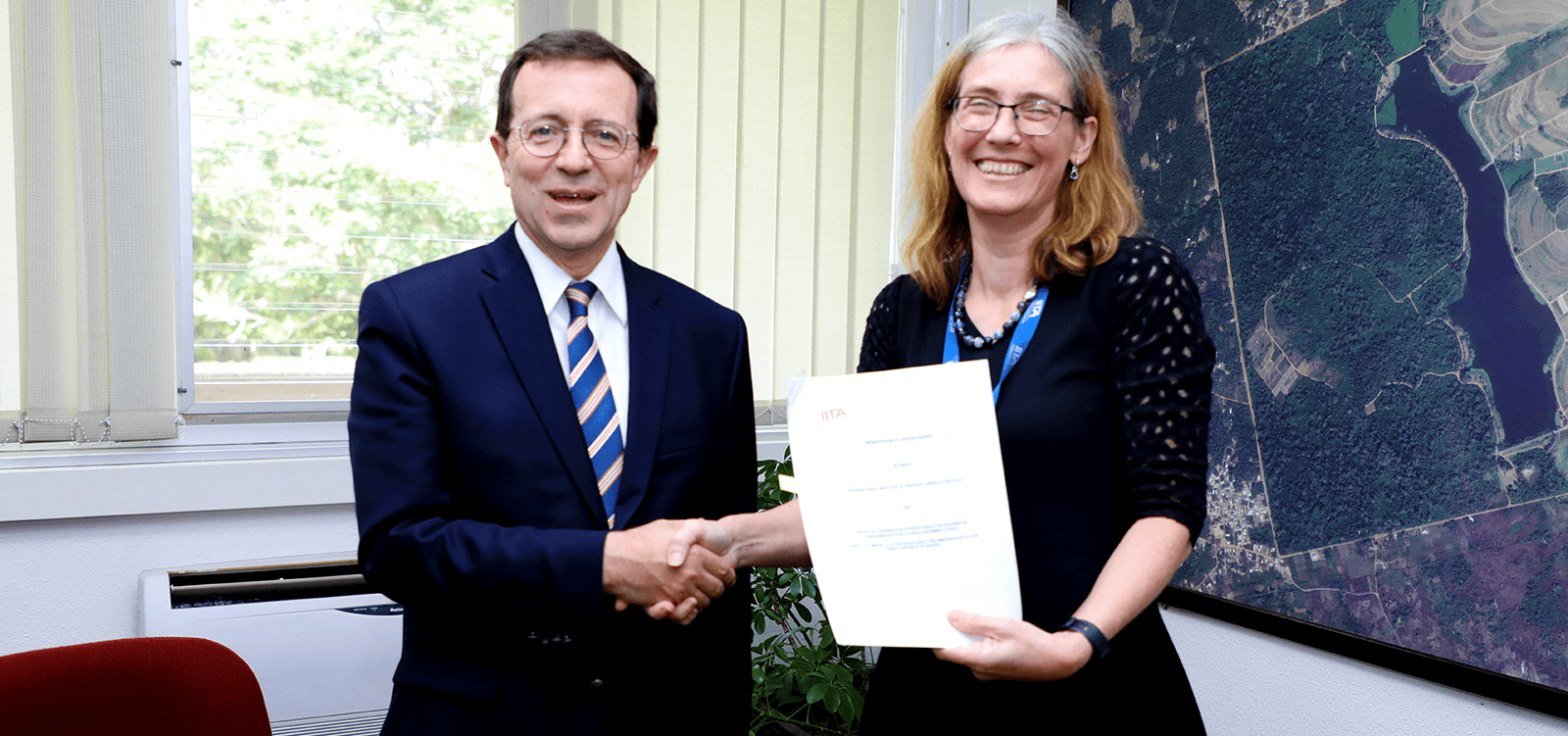 IITA Deputy Director General, Corporate Services (DDG-CS), Hilde Koper-Limbourg along with other management staff, received the Ambassador and CIRAD representatives. Koper-Limbourg expressed delight at the visit and described IITA as "a whole mix of research and partnerships channeled towards development."
The MoU sees a shift in research activities from crop-based to issue-driven and the need to blur the line between Francophone and Anglophone frontiers of research. Tancrede Voituriez, Senior Economist representing the Regional Director of CIRAD, Dr Patrice Grimaud, described the partnership as "timely" and said, "If we want to be useful at scale, we have to move beyond our comfort zones. It is good to team up with partners who can challenge us. This partnership does not only help increase knowledge, but it is a way of ensuring impact through consistency."
CIRAD has the objective of building sustainable farming systems capable of feeding 10 billion human beings by 2050 while preserving the environment. Robert Asiedu, IITA Director of Research for Development, West Africa, enumerated IITA's activities in West Africa as well as existing partnerships between IITA and CIRAD. "IITA and CIRAD are currently collaborating on projects such as Africa Yam, Biorisk Management Facility (BIMAF), Breeding Roots, Tubers and Bananas (RTB), and Design of agroecological systems based on pest management and organic waste use (DIVECOSYS)," he concluded.
Ambassador Pasquier signed the MoU on behalf of CIRAD and expressed optimism that both parties would benefit from it. Afterwards, the delegates embarked on a tour of IITA's facilities.