IITA Director General Nteranya Sanginga meets DRC President in Kinshasa this week
18 June 2019
IITA Director General
Nteranya Sanginga
met with His Excellency Felix Tshisekedi, President of the Democratic Republic of Congo (DRC), this week in Kinshasa, the capital of DRC. Dr Sanginga was part of the delegation led by President Akinwumi Adesina, President, Africa Development Bank (AfDB) that went to DRC for a four-day official visit.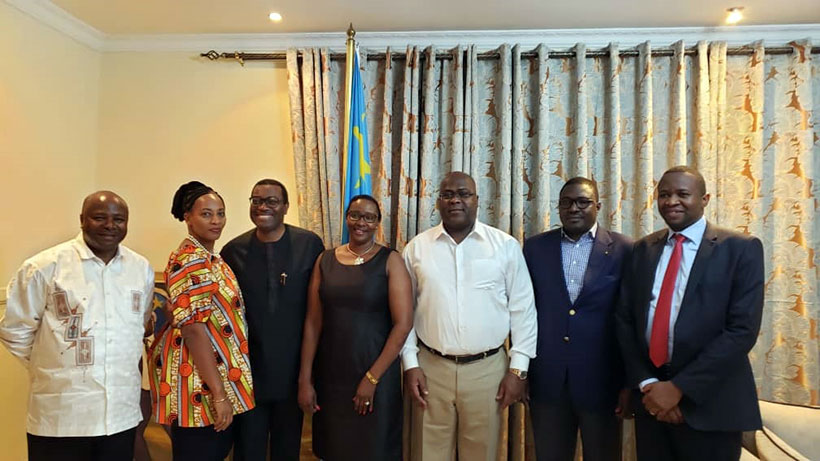 Sanginga used the opportunity to invite President Tshisekedi to the inauguration and naming of the IITA Research Station in Kalambo, Bukavu, DRC, as "The President Olusegun Obasanjo, IITA Research Campus" planned for October this year. President Tshisekedi, with former President Joseph Kabila, have been invited to grace the occasion and preside on the naming event.
According to Sanginga, the President is very excited about visiting the IITA Kalambo Station and was very impressed with the description of the semi-autotrophic hydroponics or SAH technology. SAH is a low-cost licensed method for rapid propagation of virus-free cassava plants suitable for commercial cassava seed growing. Sanginga said "The President wants to extend the technology to the whole of DRC to benefit the millions of cassava farmers."
IITA in Bukavu is home to the second tissue culture laboratory that would produce healthy cassava seedlings using the innovative technology SAH technology (the first one in Ibadan, Nigeria, was inaugurated in November last year).
Meanwhile, The President Olusegun Obasanjo IITA Research Campus is being named after Nigeria's former Head of State. President Obasanjo, IITA's Goodwill and Honorary Ambassador, has made lasting contributions to agricultural research not only in Nigeria but across Africa. He is spearheading the Zero Hunger Initiative in Nigeria which is also relevant to DRC. Because of his contribution, the IITA Board of Trustees has decided to name the IITA research station in Kalambo, Bukavu, after him.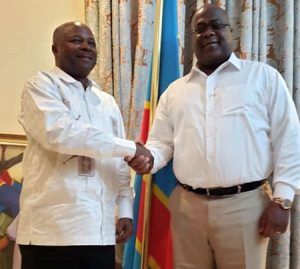 In his address to the session with the Congolese Ministers on the second day of the official visit, Adesina described the impact of IITA's innovations—including the cassava bread—in Nigeria and Africa. IITA had received the 2018 Africa Food Prize—the first institution to do so—for its research leadership and scientific innovations in the last 50 years. In a surprise move, Sanginga was asked to make a statement about IITA and its work to the Ministers, who also expressed interest about visiting the IITA station in Kalambo and rehabilitating the Yangambi research station with its huge, unique, and historic library collection.
IITA is helping transform Congolese agriculture from a self-subsistence sector into a powerful engine of global economic development and is working with the new government of DRC on the country's development and transformation through agriculture.
Earlier in Kinshasa, the DG and Mpoko Bokanga, Head of the Clearing House, Technologies for African Agricultural Transformation (TAAT), a multi-partner program led by IITA and funded by AfDB, also visited partners at the World Bank office and the Project to support the rehabilitation and revival of the agricultural sector (PARSSA), partners in the Integrated Project for Agricultural Growth in the Great Lakes (PCAGL).
Media contacts:
Katherine Lopez, k.lopez@cgiar.org
Michelle Kimpwene, m.kimpwene@cgiar.org