Agriculture Minister impressed with IITA's technologies
12 July 2017
Nigeria's minister of agriculture says there are high hopes for Nigeria's agriculture as a result of IITA's "impressive and advanced" agricultural technologies.
Nigeria's honorable Minister of Agriculture Chief Audu Ogbeh visited IITA in Ibadan, Nigeria, on 10 July, and had said that he is "deeply impressed" by the many commendable agricultural technologies developed there because they hold promise to quadruple production and export for a crop like yam and also for other staple crops like banana, plantain, soybean, and cocoa.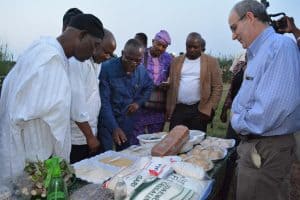 At the tour of the Institute's facilities including cassava fields, the aflasafe (a biocontrol product for controlling aflatoxins) production plant, the seed yam production facility with the aeroponics system, and NoduMax, a soybean inoculum fertilizer facility, Chief Ogbeh said "…We are seeing amazing research happening at IITA. One issue that people raised when they saw Nigeria exporting yams is the fear that there'll be shortages back home. We assured them that there wouldn't be because we are not intending to just sell all the yams and starve Nigerians. But even now, with what we have seen at IITA, we are getting more reassured that that won't happen because if we spread the technologies piloted by IITA throughout Nigeria, yam production can quadruple," the Honorable Minister said.
Earlier in the day, Chief Ogbeh who was in Oyo State on a working tour, had met with farmers in the state and also visited fields in different parts of the state to understand and work out implementable policies based on the state's comparative advantage in terms of crop production.
Oyo state is the largest state in south west Nigeria, sitting on an estimated land expanse of 28,454 km2, which represents 55.6% of the total land area of all six states in Nigeria's south west combined. But over the years the agricultural potential of the state has not been optimally maximized.
Chief Ogbeh said he wants his visit to remind the people of the state that "there is a future and fortune to be made from agriculture, especially for the young and educated who embrace commercial farming".
According to him, agriculture holds the future but it cannot be achieved through the use of hoes and cutlasses.
"Agriculture is not just hoe and cutlasses, but also research and science. That is what IITA is offering. This institute has come to play a role not just for Nigeria but Africa," he explained.
He added that: "Agriculture has a future. Agriculture has fortunes, and with an Institute like this, those who want to go into agriculture and make money should know that there is money to be made. With you (IITA) we can move forward," he added.
The Director General of IITA Nteranya Sanginga reassured the honorable Minister of the Institute's commitment to support the efforts of the Nigerian government towards ensuring that the country is food secure.
According to DG Sanginga the goal of the Institute is to work with governments in the context of their national agriculture strategies to eradicate hunger and poverty and create wealth.
On 29 June, Nigeria launched the export of yams with 72 tons of tubers from the country to the United States and Europe, sparking concerns over the ability of the country to sustain exports owing to the high cost of seed yams which is exacerbated by a lack of knowledge on modern seed yam multiplication techniques.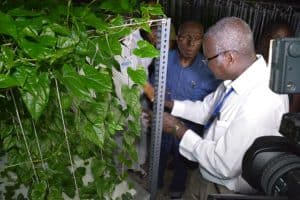 Traditionally farmers are compelled to reserve a minimum of 30 percent of their harvest as seeds for the next planting season. However, researchers from IITA and national partners have developed the aeroponics system of seed yam multiplication whereby the vines of the crop are used in propagating seed yams rather than tubers. Through this method, farmers may not need to reserve their harvest for the next planting season but can simply produce seed yams for the planting season, according to Norbert Maroya, Coordinator for the project—Yam Improvement for Incomes and Food Security in West Africa (YIIFSWA).
Chief Ogbeh also cited the strong collaboration history between IITA and the Federal Ministry of Agriculture and Rural Development (FMARD) saying that during IITA's 50th anniversary celebration which is slated for 24–29 July 2017, FMARD will announce the modalities of how it intends to keenly partner with IITA to get available technologies into farmers' hands.
Top African government officials and private sector champions including Prof Yemi Osinbajo, Nigeria's Acting President; Chief Olusegun Obasanjo, former President; General Yakubu Gowon, former head of state; Bruno Tshibala, Prime minister of the Democratic Republic of Congo; Dr Akinwumi Adesina, President of the African Development Bank; Dr Deo-Guide Rurema, Minister of Agriculture and Livestock, Burundi; Mr Sadanobu Kusaoke, Japanese Ambassador to Nigeria, Alhaji Aliko Dangote, Tony Elumelu, the local king, Oba Saliu Adetunji, Olubadan of Ibadan; and state governors are expected to grace IITA's 50th anniversary celebration, with support from the Dangote group, Tony Elumelu Foundation, IITA staff, and the Board of Trustees, Bovas, Inqaba, Punch and the Guardian Newspapers.