IITA Gender Network plans better strategies to promote gender research in One CGIAR
12 October 2021
The
IITA
Gender Science Network (GSN) is a team that comprises social and biophysical scientists, communication staff, and project managers. The Network's goal is to be a vibrant community of practice for gender advocacy and enhancing gender research, communication, and impact. It also envisions having an innovative and diverse network of scientists in IITA to strengthen the quality and visibility of gender research through dialogue, cooperation, and influencing the delivery agenda of the Institute.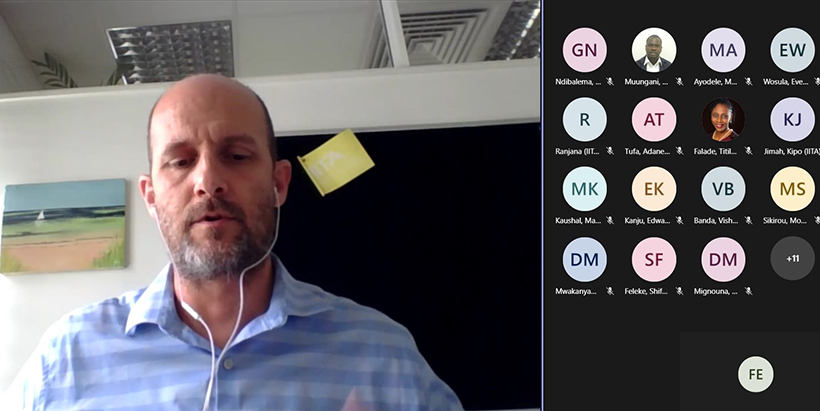 The GSN holds quarterly meetings to monitor its activities, measure progress, identify challenges, and discuss the way forward. On 29 July, the Network held its second quarterly meeting for the year to highlight the Network's gender research activities of the second quarter and discuss new activities and progress made. There was also discussion around the CGIAR GENDER Platform and One CGIAR 'Gender' Initiative.
Steven Cole, IITA Senior Scientist and Gender Specialist and Coordinator of GSN, welcomed all, including new members joining the team from units and projects in IITA. He also shared the purpose and agenda of the meeting, after which Olamide Olaosebikan, Research Associate at IITA, provided a recap of the quarter one meeting.
Long-standing and new members were allowed to share their gender-related activities in the second quarter. Among the numerous activities were those of Ranjana Bhattacharjee, Molecular Geneticist at IITA Ibadan and Cheick Aboubacar Diarra, Technical Expert, ENABLE Youth-IITA Madagascar. Bhattacharjee spoke about the IBRD IDA World Bank project where they work with a "model farm" in schools to grow nutritious food crops focused on changing students' food baskets. She spoke about the double burden of malnutrition that must be tackled in schools and  the students' households. "Gender is considered as we compare food baskets of girls and boys, and the reasons they are different," she said. Diarra talked about the challenge nursing mothers face by not being invited to participate in the ENABLE Youth program, hence, they are working on daycare facilities to resolve this issue.
Discussing the way forward, the team agreed that webinars be organized to promote knowledge on gender research and its importance. Hence, the first set of webinars would be presented in IITA with occasional promotion to One CGIAR. Other ideas included organizing a roundtable discussion for more interaction and contribution of members. There is also the need to carry out a small survey when planning projects to understand the preferences and needs of women and men for better research results.
Giving an update on the CGIAR GENDER Platform and One CGIAR ''HER+' Initiative, Cole mentioned that there would be a Cultivating Equality Conference in October organized by the GENDER Platform and Wageningen University and Research. Also, IITA was involved in developing three Innovative Methods Grant proposals of the GENDER Platform, and one that IITA led was selected. "For the HER+ Initiative, which I am part of the Initiative Design Team," a pre-concept proposal has been submitted and we are working on the full proposal," Cole said.