IITA gets biotechnology stewardship certification
29 October 2020
After completing a three-year audit cycle,
IITA
has become a certified member of
Excellence Through Stewardship
(ETS). ETS is a global organization that promotes the adoption of product stewardship programs and quality management systems for the full life cycle of agricultural biotechnology products. IITA joined the ETS organization as a member in late 2016, marking its commitment to establishing the best quality management system and product stewardship practices.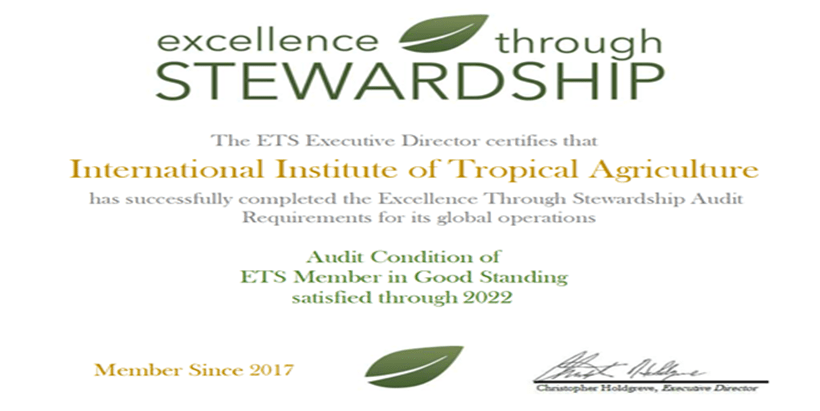 Since joining ETS in 2016, IITA has been developing and establishing recommended biotech stewardship practices to meet ETS certification requirements under the leadership of Leena Tripathi, a Principal Scientist leading transgenic and genome-editing research. The IITA Plant Transformation Group has established a quality management system (QMS) and adopted several best practices, where teams go above and beyond to meet and exceed stewardship requirements. The best practices include a documentation system, availability of critical records, accessibility of documents and standard operating procedures (SOPs), regulatory compliance, and competent staff. There has been continuous and sustained training of the team and partners on stewardship and local regulatory requirements, e.g., National Biosafety requirements for biotech activities. The group has a shared understanding of Incident Response (External and Internal), Corrective and Preventive Action, and Continuous improvement through the training.
Member organizations have up to three years to complete the "ETS Global Stewardship Audit," which a third-party auditor conducts to verify that stewardship programs and quality management systems are in place.​​ IITA started this process early this year with an ETS Gap Assessment. An ETS readiness and internal audit followed in July 2020 to assess the Plant Transformation system, policies, and operations that drive and support the stewardship program, check if the action plans recommended in the gap assessment were completed satisfactorily, and confirmed IITA's Readiness for ETS Certification Audit. Between August and October 2020, the ETS certified external auditor reviewed the IITA Plant Transformation group's operations in Kenya. Following the successful completion of the audit, Eric Van Ausdal, the ETS Director of Outreach & Membership, sent Leena Tripathi the Global Audit Certificate to recognize this accomplishment.
IITA receiving this certification means that the Institute has efficient biotechnology quality management systems in place. These systems or practices include but are not limited to responsible management, handling, governance, oversight, and traceability.
Stewardship is a lifecycle approach to product management. It is a responsible way of managing agricultural technology products from their discovery to their development and use, and eventual discontinuation.
IITA becoming a certified ETS member, shows its commitment to stewardship of biotech-derived products and quality management systems for the full life cycle of agricultural biotechnology products.
The ETS audit included IITA's biotechnology research and development based in Nairobi, Kenya with banana, particularly bacterial wilt resistant bananas and other crops such as cassava and yam. IITA is also moving higher up the biotechnology chain by using genome editing in its research.
IITA is planning to include its operations at Headquarters (Ibadan, Nigeria) in the next ETS audit. Leena Tripathi is the contact person for ETS membership.