IITA holds Climate Smart Agriculture awareness session for local-level policymakers
7 May 2021
As part of efforts to ensure sustainability and scalability of efforts to build capacity in Tanzania to respond to the challenges posed by climate change to agriculture,
IITA
organized a series of awareness creation sessions for councilors and other district-level planners on climate-smart agriculture (CSA) planning and budgeting.
The team from the USAID-funded Building Capacity for Resilient Food Security project specifically met District Council committee members in charge of finance and planning, incorporating representatives from other committees. The sessions were well received by the councilors, who noted the importance of addressing the challenges posed by climate change to agriculture and other economic development activities. The councilors agreed to take the lead to champion CSA in their respective districts and plan and allocate budgets for CSA activities.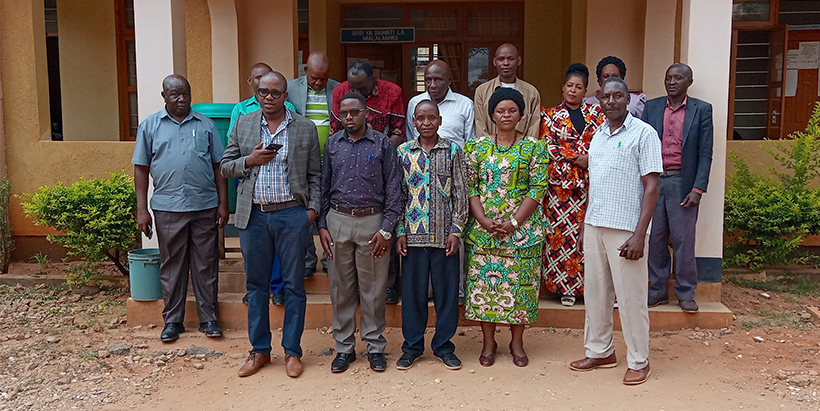 The teams visited the following districts:  Ruangwa on 30‒31 March, Kongwa on 12–14 April, and Kilolo on 16 April. The team comprised Catherine Njuguna and Bahati Maregeri from IITA and representatives from the Ministry of Agriculture (MoA) and the President's Office – Regional Administration and Local Government (PORALG)._
"Today's session was very important. It has increased our knowledge of CSA, which can help us cope with climate change. If we follow these CSA practices and technologies, we shall not only increase agriculture production and income, and food in our district, but we shall also protect our forests and other natural resources. As a district, our number one source of income is agriculture, so we shall also increase our district revenue," noted Zuberi White, the chair of the Kongwa District Council.
The councilors also appreciated the project and assured IITA that they would continue promoting CSA to cover the whole district beyond the project sites.
"We wish to thank the project team, which has been advocating and demonstrating to our farmers how to cope with climate change. We also thank the team for seeing the importance of creating awareness on CSA among us, councilors. We shall budget for CSA, so as the project ends, we can continue initiatives. Furthermore, as we are the finance committee, we shall support and ensure that funds are allocated," Albert Mwombeki, chair of the Ruangwa District Council, added.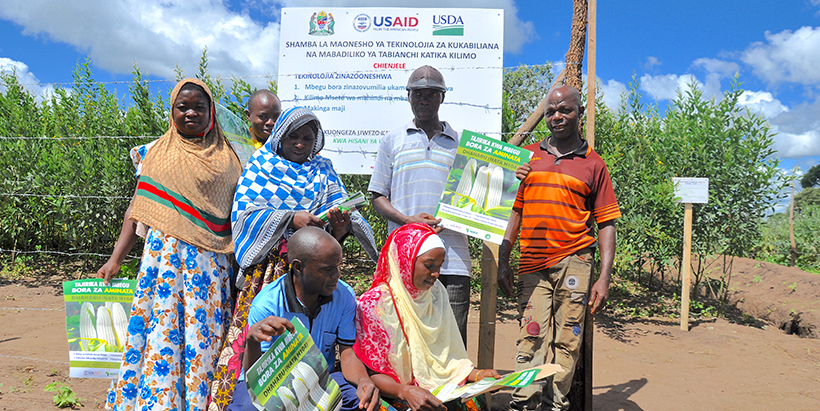 "Our people are very hardworking, but their income is not commensurate to the efforts they put in. Nowadays, we see very low yields from the fields. Climate change has left our farmers very vulnerable. Therefore, we have to help them make farming profitable. We shall therefore use all opportunities to talk to them about CSA," Mwombeki said.
Formation of CSA multistakeholder platforms
The project also met representatives of different CSA stakeholders in the districts to urge them to form CSA alliances that bring all relevant actors together to promote CSA, pool resources, avoid duplication, and learn more about CSA.
In Ruangwa District, an interim committee was formed to oversee the formation of the alliance. In Kilolo and Kongwa districts, which already had alliances, the follow-up action was to strengthen them by addressing the current challenges.
In Kongwa, the CSA platform will be incorporated into the existing Kongwa innovation platform created by the Africa RISING project in 2015.
The Building Capacity for Resilient Food Security project, now in its fourth year, introduced various technologies and practices in seven districts in both mainland and Zanzibar—in Pemba and Ungunja—through Farmer Field Schools and has reached over 2,000 farmers in these districts.