IITA joins other CGIAR centers to provide support to rebuild Somalia's Agriculture sector
21 November 2019
IITA
and eight other CGIAR centers have met with officials from the Government of Somalia and several agriculture development partners to put together a plan to rehabilitate Somalia's agricultural sector following years of conflict in the country. The meeting took place on 24 September at ICRAF offices in Nairobi, Kenya.

Donor organizations with development programs in Somalia convened the meeting hoping to introduce the improved technologies from CGIAR centers. These organizations, including the US Agency for International Development (USAID), the European Union (EU), the UK Department for International Development (DFID), and Japan International Cooperation Agency (JICA), also want to see improved approaches in the agriculture and natural resource management sectors applied in the country.
The other centers represented at the meeting include Center for International Center for Tropical Agriculture (CIAT), International Crops Research Institute for the Semi-Arid Tropics (ICRISAT), International Forestry Research (CIFOR), International Maize and Wheat Improvement Center (CIMMYT), International Livestock Research Institute (ILRI), International Potato Center (CIP), International Rice Research Institute (IRRI), and World Agroforestry (ICRAF). Each organization shared what they could do, or are already doing, in Somalia.
The meeting chair was Mohamed Abdinoor, Chief of Party of the Somalia Growth, Enterprise, Employment and Livelihoods (GEEL) project. GEEL is a USAID-funded project that aims to boost Somalia's exports of quality agriculture and fish produce, increase dairy production, reduce reliance on imports, and increase jobs in a country recovering from years of conflict and recurrent natural disasters. "After 30 years of conflict, Somalia is coming back," Abdinoor said.
The suggestions for support from CGIAR included providing technical backstopping in formal and informal capacity-building programs, genebank conservation, supporting crop performance trials, or support in direct implementation.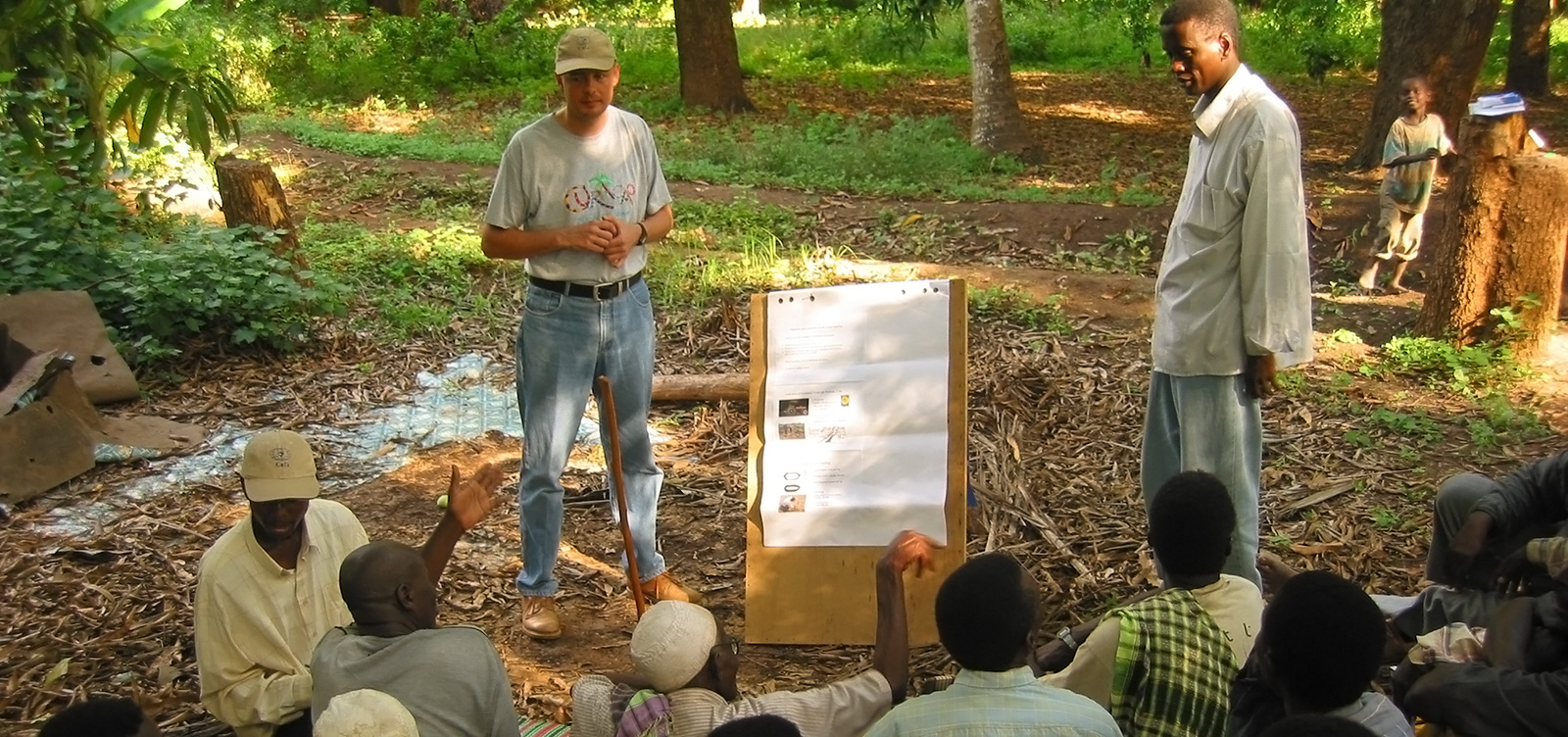 They also canvassed for the introduction of climate-smart crops such as sesame, sorghum, cowpea, sweet potato, cassava, and millet. These include short-season and/or drought-tolerant varieties that can enhance livelihoods and promote the resilience of smallholder farmers. Combining these with trees that are suited to the different agro-climatic zones can further enhance productivity and lead to more sustainable agricultural systems.
Senior Business Development Officer Edward Baars led the team from IITA. He pointed out that IITA's contribution could include the introduction of a strategic multiple stress-tolerant crop roadmap for Somalia, including science-based crop improvement trials and demo plots to identify appropriate varieties. This should also include use of crop Genetics and Molecular breeding to speed up breeding. The crops should also be tolerant to biotic stresses such as cassava brown streak disease (CBSD) and mosaic disease (CMD) and include other IITA crops including banana and cowpea.
Other activities discussed include establishing a vibrant seed system to support and maintain the crop improvement activities; and capacity building and training of researchers in crop improvement and seed systems.
He also suggested IITA could support banana production by introducing tissue culture propagation to provide clean planting materials; and developing and scaling-up Aflasafe®, an innovation that helps keep maize, sorghum, and other agricultural products free from aflatoxins to meet the EU standards for safe consumption and export.
Both ILRI and IITA mentioned livestock-crop index insurance and synergies between them as a potentially high impact innovation for Somalia, following initial successes elsewhere.
ICRISAT's Senior Cereal Breeder Eric Manyasa advocated for farmer-led seed production, describing a successful project with CARE in 2002 in Lower Shebelle where the two organizations had produced 400 tonnes of seed under irrigation.
CIP proposed to bring Irish and orange-fleshed sweet potato (OFSP) that are adapted to all environments and are climate resilient. Furthermore, 125 grams of OFSP provides 100% of the required daily allowance of Vitamin A for a child under 5 years old.
World Agroforestry described its work in the Regreening Africa project to restore landscapes in a country that has been devastated by among other things, the felling of trees for charcoal production and export to Gulf States.
Culled from ICRAF blog: http://www.worldagroforestry.org/blog/2019/09/24/agriculture-resurges-somalia-cgiar-centres-government-fao-and-donors-plan-help-it