IITA joins partners to foster innovations in agricultural sector
3 December 2019
IITA
partnered with the organizers of the International Conference and Expo on Research and Innovations in Agriculture (ICERIA) to celebrate research milestones and innovations in agriculture while creating awareness to facilitate opportunities for networking, collaboration, and exchange of ideas with renowned leaders in agriculture.
The conference, themed "Harnessing Agricultural Innovations for Economic Development," took place on 24 October, at the Nigerian Institute of International Affairs, Victoria Island, Lagos. IITA was represented by Katherine Lopez, Yinka Fasogbon, and Osunde Timilehin of the Communication Unit; Victor Saleh of the Business Incubation Platform (BIP); and the Yam Improvement for Income and Food Security in West Africa (YIIFSWA) team with Oyeyemi Azeez, Paul Emmanuel, Oiwoja Odihi, and Tunde Sulaiman.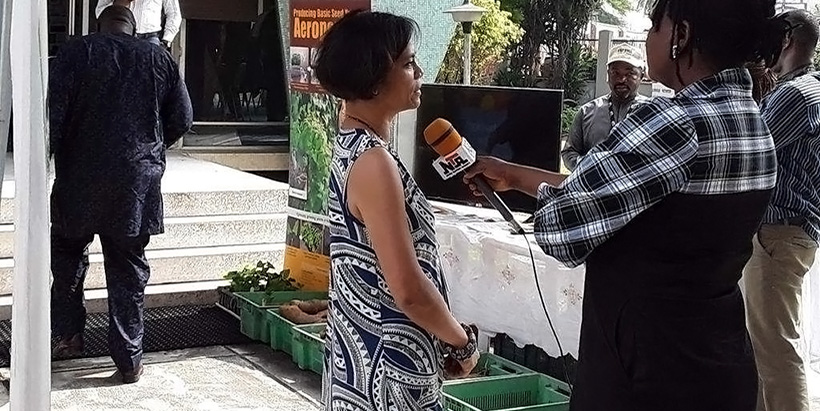 Victor Saleh of IITA-BIP made a presentation on "Breakthroughs and Innovations in Agricultural Research," on behalf of BIP CEO Frederick Schreurs, and participated in the panel session focused on commercializing innovations. The presentation shed more light on our innovative technologies/products and services of BIP; solutions provided to address agricultural problems, such as low legume yield, aflatoxin contamination, and poor quality seeds; and how well BIP had been commercializing the technologies to benefit farmers.
Agricultural research and development play a key role in fostering innovation and productivity in agriculture. This can be successfully applied in the African continent if a concerted effort is directed towards adopting new technologies and approaches or modern agricultural practices.
In his welcome address, Baro Thomas, Editor-in-Chief, AgroTimes, the organizer of the event, said that the conference was organized as a way of contributing to the reportage of agriculture, and to showcase innovations in the sector. The event mobilized and pooled critical stakeholders who discussed issues on research funding on the continent, roles and mandates of research institutes, and recent trends in agricultural research and its contributions to food security with a view to forging a clear road map to harness sustainable agri­cultural innovations for economic development.
Dr Kanayo Nwanze, former President, International Fund for Agricultural Development (IFAD), the keynote speaker, said: "For Nigeria's agricultural sector to be like that of Israel, The Netherlands, and other countries that have been successful, the government must, among other things, ensure sustainable financing of all sectors of society that are involved in agriculture research and development." He also said that "development is not something that somebody introduces to a country; it's not something that somebody does for you; it's something that you must do for yourself."
Occasion Chairman, Taiwo Obe, Founder, Journalism Clinic, noted that "Innovation comes out of what is impossible." Another commenter at the event, Seye Oyeleye, Director-General, Development Agenda for Western Nigeria (DAWN) Commission, also called on the government to make agriculture attractive, especially to the youth.
Panelists at the event including Prof Lucia Omobolanle Ogunsumi, Victor Saleh, Dele Ibitoye, Dr Efem Ubi, Dr Rose Suniso Maxwell Gidado, Amaka Chukwudum, and others all agreed that Nigeria must "innovate its agriculture sector." The key suggestions given to achieve this include: Creating a market for agricultural products; rebuilding some of the ancient agricultural farms; having a long-term approach towards farming; addressing postharvest losses; constructing and rehabilitating road networks; providing adequate finance through decentralization of the sector; and establishing an exclusive bank.