IITA and Liberia explore partnership on youth program
17 February 2018
Deputy Director General, Partnerships for Delivery, Kenton Dashiell, led an IITA team to meet the Vice President of Liberia on 2 February. Dashiell stressed that IITA had been in the business of transforming African agriculture for the past 50 years.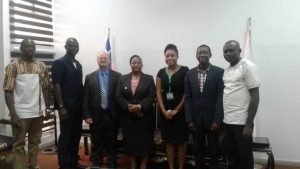 He cited examples of IITA's recent interventions, including the distribution of high-yielding cassava varieties and planting materials to farmers in the country, as well as upscaling of cassava processing machines and products through the Smallholder Agricultural Productivity Enhancement & Commercialization (SAPEC) project led by Michael Edet (Extension Agronomist) and Wasiu Awoyale (Postharvest Specialist) of IITA. A good example of the upscaling is the establishment of six fully equipped cassava processing centers in strategic regions of the country for the production of value-added products like fufu powder, high quality cassava flour, and starch.
Giving an insight into the efforts made by IITA to engage the younger generation in revitalizing the agricultural sector in Africa, the Head of Youth in Agribusiness Office, Evelyn Ohanwusi, said the organization has trained, mentored, and coached young unemployed people to embrace agriculture as a business, and create jobs and wealth through the value chains.
Using the Imo State Agripreneurs approach as a case study, Evelyn explained that the proposed approach for the Tumutu Agriculture Vocational Training Center (TAVTC) located in Salala District, Liberia, will go a long way in assisting the country to engage its young people.
While appreciating IITA for a job well done in the area of agriculture and youth engagement, the Vice President, Madam Jewel Cianeh Howard Taylor pledged her support in ensuring that the youth project/program being proposed in partnership with IITA at TAVTC is achieved and sustained, with other youth projects like that of the West Africa Agricultural Transformation Program (WAATP), and ENABLE-Youth. She however pleaded that the project be extended to other centers like Monrovia Vocational Training Centre (MVTC) Montserrado County, Klay Youth Centre Bomi County, and the Panama Agricultural and Vocational Training Centre in Sinoe County.
In a related development, Food and Agriculture Organization (FAO) Liberia officials led by Mr Jepson Momo, received Dashiell and team stating that IITA has done well by creating the IITA Youth Agripeneur program  which is setting a career path for young people in agriculture.
He expressed optimism that the adoption of the model in Liberia will assist in engaging the under- and unemployed youth in the region towards establishing profitable enterprises in agribusiness. He added that through this, he hopes that the youth who constitute about 65% of their population, will contribute to the GDP of the country and earn a decent living through agribusiness.