IITA reiterates the importance of alignment with agricultural goals of African countries
30 July 2019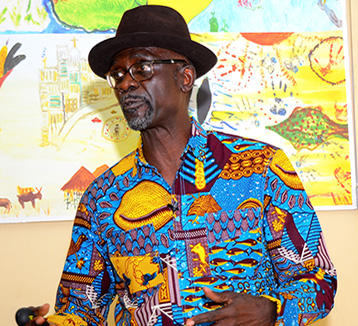 On 24 July, Dr Kwesi Atta-Krah, Director of Advocacy and Country Alignment Function (ACAF), presented a seminar at IITA-Ibadan on "Country Alignment and Advocacy" in the context of ensuring impact and resource mobilization at country level. Alignment is necessary to ensure that IITA's activities, including research, incubation, and delivery, contribute to the strategic goals of the countries in which the Institute operates.
The goal of this is to achieve accelerated impact through strengthened integration of Research and Delivery towards achieving country targets.
Dr Atta-Krah emphasized the importance of ensuring alignment between IITA's research and delivery operations with the upper-level goals at country and regional levels, as well as positioning IITA as a lead center for research and delivery in sub-Saharan Africa. He said, "We need to offer the Institute as the African center for delivery on research technologies and products for agricultural transformation in Africa, and ensure that whatever IITA is doing contributes to the strategic goals of countries and also in the framework of African Union Commission Comprehensive Africa Agriculture Development Program (AUC-CAADP)."
Country alignment would involve "broadening our scope of operations beyond specific project deliverables to also include country and regional public goods."  This allows host countries to see IITA as a partner in a process of strategic engagement. In this context, Alignment would enhance IITA's legitimacy in host countries, strengthen partnership engagements with country institutions, and open opportunities for resource mobilization from countries, including donor groups based within countries.
Improved alignment of research to country goals also provides benefits for smallholders. "If IITA can work with the country goals, with the objective of doubling the productivity and income of smallholders, there would be more food and more income for smallholder agricultural producers and value-chain actors." This will also promote the image of IITA as key actor in African agriculture.
In addition, he said IITA should be engaged with agricultural institutions in the country so that the institute moves in the same direction as them. "We have been advocating on how the Agricultural Research Council of Nigeria (ARCN) can be supported to facilitate and perhaps coordinate the engagement of national agriculture research institutions to strengthen the alignment of their R&D operations to country strategic goals, as well," he said.
There have been challenges with integrating all the key actors and different projects that have been working by themselves. Dr Atta-Krah noted that steps are being taken to trigger the needed mindset change and position IITA and other research and delivery partner institutions, towards embracing the need for alignment. This would need to be underpinned through institute policy, with built-in elements of accountability and incentive mechanisms.